---
Engaged Learning supports collaborative efforts between operational and academic department members in order to create campus-based learning opportunities that engage students in analyzing, evaluating, and generating creative solutions for a more sustainable campus. Such engaged learning experiences help students develop practical professional skills while expanding their understanding and engagement with complex sustainability challenges.
Engaged Learning Opportunities
Faculty and operational staff members are invited to submit project or research ideas to or schedule a meeting with Campus as Lab Program Manager, Nathan Peifer, at peifernl@nullwfu.edu. Engaged-learning projects must be related to an issue of ecological, social, or economic sustainability and can be course-based or extra-curricular. Click here to view a full list of all Engaged Learning opportunities.
Locations
Campus Garden
Tohi Garden
Three Sisters Garden
---
Connections
Dr. Ron Von Burg partnered with the WFU Campus Garden to create a series of engagements for Humanity & Nature (HMN365). The students developed empathy for life in the garden by preparing soil, growing vegetables and, finally, enjoying a fresh salad.
Campus as Lab connected the Comm & Rhetoric (COM110) class with Chaplain Tim Auman, who led the students in place-based mindfulness exercises to develop their capacity to listen deeply.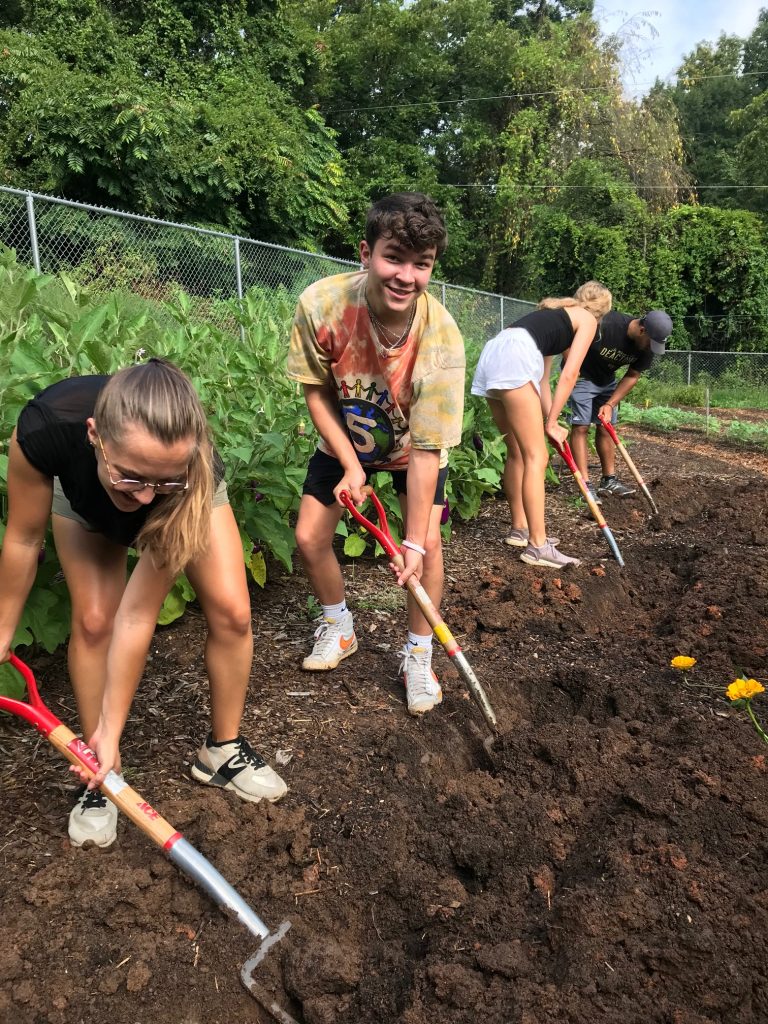 Frankly, [Engaged Learning] made implementing campus projects much easier. Having someone suggest particular projects, correspond with the campus partners, and follow up with them made it possible for me to do these projects in my class.

Dr. Lucas Johnston, ENV20
Campus as Lab facilitated partnerships for Intro to Engineering Thought (EGR111). Student teams practiced the engineering research process with four Reynolda Campus clients, ranging from Reynolda Gardens to the Anthropology Museum. Students identified an engineering challenge, characterized that challenge using quantitative and qualitative data, and communicated their findings to their stakeholders to support future action.
---
Outcomes
Campus as Lab identified campus clients for students in Software Engineering (CSC331). They exercised teamwork and communication skills as they developed applications in response to client feedback. The Campus Tree Map app was recognized as the highest quality product of the semester. WFU Landscaping can now use the app to maintain an inventory of vital data about Reynolda Campus trees.
Getting students to actually see what resilient practices look like on a local level and discussing those at a broader scope later in class was a great experience for them.

Dr. Lina Benabdallah
Student researchers in Environmental Issues (ENV201) worked closely with campus stakeholders to analyze environmental challenges including product life cycle assessments, pawpaw pollination, paper towel composting, native meadow restoration, and stormwater management. The analyses yielded practical recommendations for stakeholders and where compiled into a professional course term-project report.
Students were highly motivated working on the projects because they were able see the direct positive outcomes stemming from their work.

Dr. Chris Zarzar, ENV201
Facilitated by Campus as Lab, the Maintenance and Utilities team provided the Geographic Information Systems (BIO379) class with campus energy use data. The students used GIS software to generate visual representations of energy use on campus. A senior Biology major pursued the project as an Independent Study and created an Energy Usage Map of Reynolda Campus Buildings.