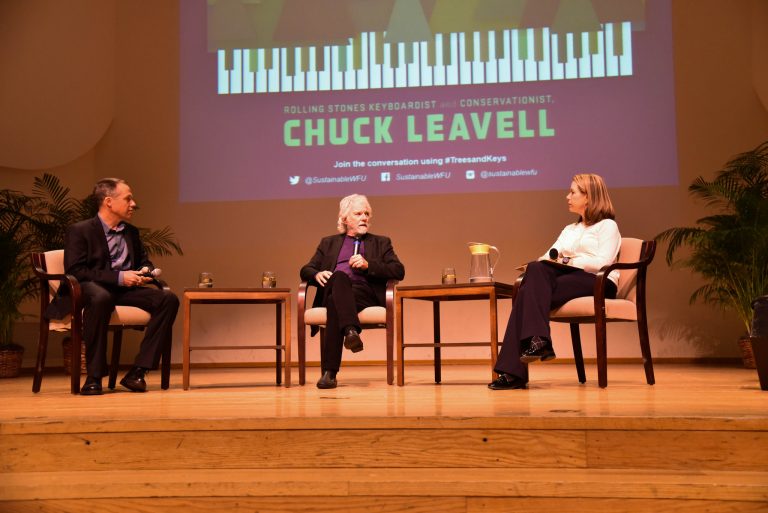 One of the most respected keyboardists in the world of rock'n'roll visits Wake Forest to speak about environmental stewardship and conservation
When you think of living a double life, the action-packed escapades of professional spies, secret agents and undercover cops come to mind. For Chuck Leavell, living a double life is simply a way to combine his passions and talents—and it certainly is action-packed.
Leavell has spent over half of his life performing with bands and artists such as the Rolling Stones, the Black Crowes, the Allman Brothers, Eric Clapton, George Harrison and John Mayer. Living on tour buses, waking up at noon in foreign cities and playing music for millions of screaming fans differs greatly from Leavell's other life as a Georgia tree farmer.
Leavell and his wife, Rose Lane, own and operate a tree forest called Charlane Plantation in Bullard, Georgia. In his 2004 memoir, "Between Rock and a Home Place," Leavell reflects on the wildly different lives he leads. His 'day job' at Charlane Plantation consists of waking up at 5 a.m., riding around on a tractor, pruning trees and being honored—twice—as a Georgia Tree Farmer of the Year and as a National Outstanding Tree Farmer.
During his visit to Winston-Salem and Wake Forest University, Leavell was able to merge his two worlds as a rock'n'roll keyboardist and a Georgia tree farmer together for a two-day event full of solo performances, a conservation panel discussion, and a tree planting.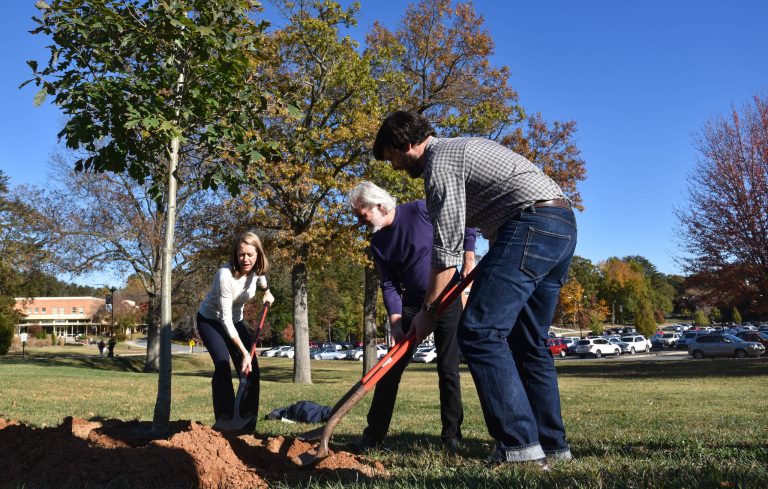 On Nov. 10, shovels hit the ground as Leavell helped plant a white oak tree outside Farrell Hall near Poteat Field on the Wake Forest University campus. Leavell was joined by Dedee DeLongpré Johnston, chief sustainability officer, Hof Milam, executive vice president of Wake Forest, Andy Tennille, a freelance music journalist, photographer and curator of the "More Barn" concert series, as well as other members of the Wake Forest sustainability community.
Later that evening, Leavell joined Wake Forest's Dr. Miles Silman, the Andrew Sabin Family Foundation Professor of Conservation Biology and Director of the Center for Energy, Environment and Sustainability, for a presentation and panel discussion on conservation and environmental stewardship.
Both speakers challenged the audience to take action and be good environmental stewards. Leavell emphasized that "being a good steward is hard work, but it's important and it's worth it."
"His level of dedication to understanding sustainability—to using the land without using it up—is amazing," said Silman in regards to Chuck's conservation work.
The celebration of environmental stewardship and land conservation continued on Nov. 11 with a sold-out, solo concert at the Barn in Reynolda Village.
One thing is certain—Chuck holds his recognitions from the National Arbor Day Foundation, the Georgia Conservancy, and the Urban Forest Council equally high—or higher—than his numerous gold and platinum records.
"Rolling Stones keyboardist, multi-book author, owner of a profitable, sustainable farm—Chuck does it all," Silman said.
This event was sponsored by the Office of Sustainability and the Center for Energy, Environment and Sustainability (CEES), in conjunction with the "More Barn" series at the Barn at Reynolda Village.
Click here to view photos from the event on Flickr.
Click here to read a piece about the tree planting by the Winston-Salem Journal.