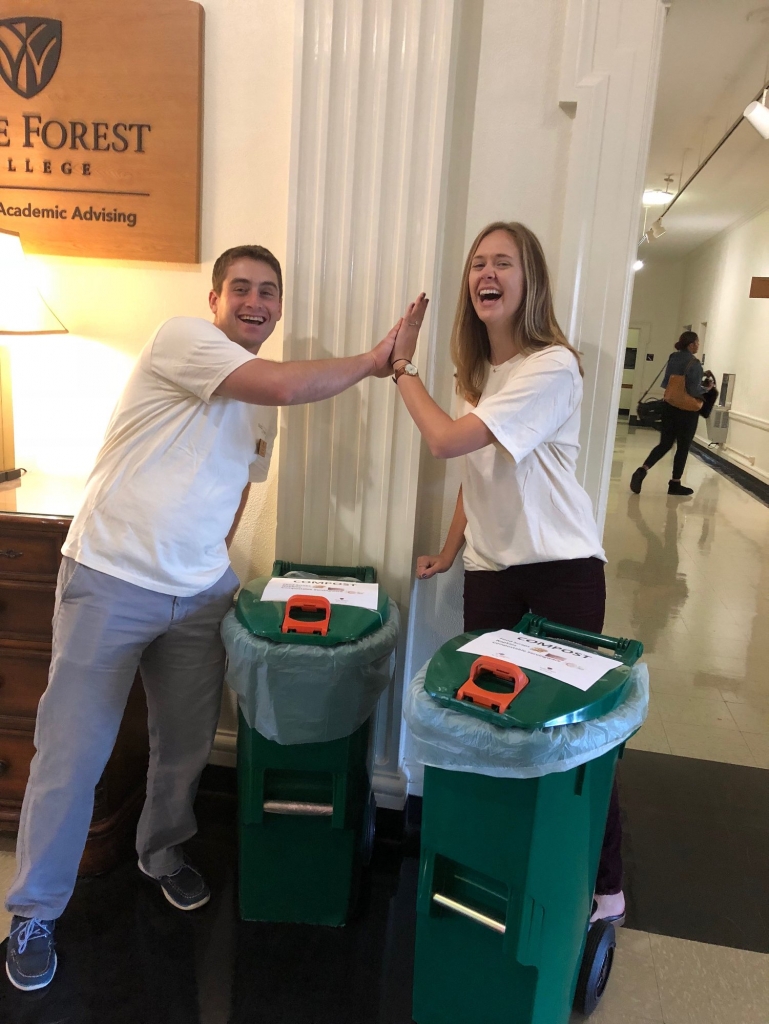 Q: My student organization/department/office is hosting a special event and we'd like to compost. Where do I start?
A: Whether it's a small or large event, composting can be accomplished. First, be sure to request compost bins by placing a work order through Facilities and Campus Services for the number of compost bins you would like. Be sure to include the date of the event, the time you would like bins to be there, and an expected end time. Then, be sure to contact the Office of Sustainability (sustainability@wfu.edu). The Office of Sustainability can ensure that volunteers are present at your event to help guests properly sort their waste. This is recommended for every large event.
If your event is being catered, be sure to speak with the catering team about providing compostable dishware and silverware. Better yet, request reusable dishware and silverware if your budget allows. If you're in a pinch and need to purchase your own dishware/silverware, know that only certified compostable utensils made from either corn, sugar or potato starch are the only utensils that can be composted. A list of ASTM D6400 or ASTM 6868 certified products are available at The Biodegradable Products Institute (BPI). Additionally, most grocery stores carry paper plates and bowls that are compostable. Some are labeled as such, but as long as they are paper based and do not have a waxy coating they should be OK to compost.
At the end of the event, be sure to take your collected compostable items to the loading dock of Reynolda Hall outside of the Fresh Food Company. Here you will see compost bins marked for Gallins Family Farms. Place all collected materials for composting in these bins.
Note that Gallins Family Farms can compost meat, dairy, citrus, and bones as these materials break down in a commercial facility.