Raj Patel Speaks to Campus on "The World that Food Made"
Main Content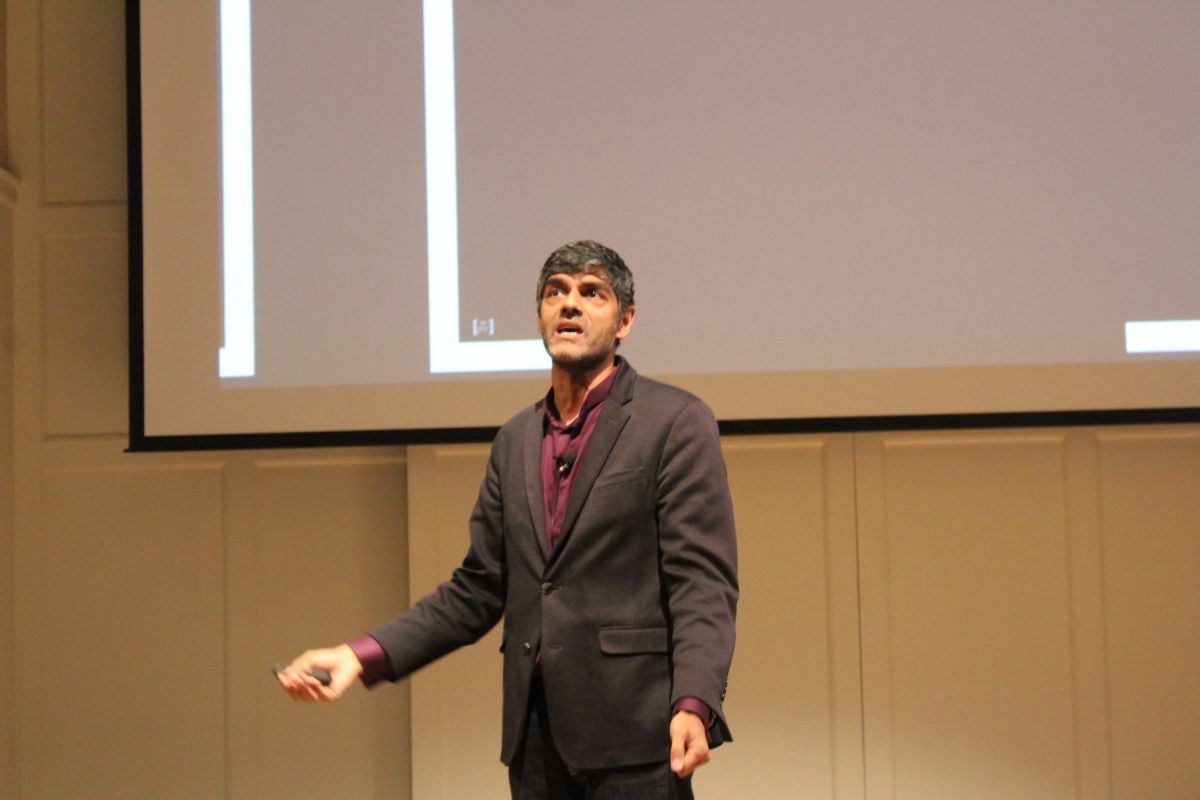 Dr. Raj Patel engaged a full house at the Byrum Welcome Center with enlightening stories of agriculture, systemic inequality, and how one village in Malawi empowered people through food.
By: Adam Tomasi
Raj Patel, an award-winning journalist, food activist and research professor at the University of Texas, stood in front of over 200 attendees at the Byrum Welcome Center last Wednesday, Sept. 19. Students, alumni and community members waited with patience and excitement to hear Patel deliver his keynote address "The World That Food Made."
"Food justice is something I have been interested in for years," said Cameron Steitz, an alumnus from the Class of 2018 who was in attendance.
Food justice was one among many topics Patel explored through the lens of systematic issues like gender inequality, sexism, neocolonialism and white supremacy. The remarks of his address aligned with themes highlighted in his latest book, A History of the World in Seven Cheap Things, co-written with Jason Moore. Throughout his talk, Patel drew on the book's analysis of the seven things that have shaped our world and will continue to shape our future: nature, money, work, care, food, energy, and lives.
Yet, Patel acknowledged that this global, systemic perspective could have been daunting for the audience to digest. Capitalism and white supremacy are part of the world we live in, he noted. At different moments, he asked the audience to repeat those words with him, on the count of three.
Patel also referenced "the Anthropocene" — the contemporary geologic era we live in, one in which human beings and their actions have a significant effect on the environment. He wondered how, following the Anthropocene, future intelligent life would know that human beings once lived on the Earth. One indicator, he suggested, would be our processed chicken bones left in the fossil record.
"There is no such thing as a sustainable food industry," Patel said, a striking image of a chicken on the screen behind him.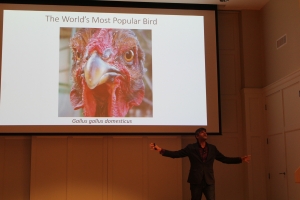 The world consumes 50 billion chickens per year, and the chicken nugget represents the globe's demand for cheap food. In his view, this is not a population problem.
"The food system treats things as disposable," Patel said, commenting on what he believes capitalism has done to the way we produce food. "This leads to overconsumption."
On top of the climate crisis, industrial poultry production depends on underpaid, virtually-free labor at the production line. Women and minorities are disproportionately represented in what amounts to modern-day slavery. Workers on the chicken production line are six times more likely to end up with carpal tunnel, yet the costs of healthcare are increasing.
"Who looks after them?" Patel asked the audience. His answer: usually women, whose unpaid labor supports this workforce.
A small village named Ekwendeni, in Northern Malawi, is one area where this is historically true.
Patel is working with award-winning director Steve James to create Generation Food, a documentary that sheds light on the cultural change needed to shift the perception of cooking as merely "women's work." After a natural cooking competition formed and took place in their village, women organizers felt empowered to call out the unequal, gender-based distribution of housework. Researchers found that infant malnutrition rates substantially declined in this community when women no longer bore the brunt of strenuous harvesting and cooking.
"Patel's presentation reaffirmed the necessity of constantly thinking about how gender inequality influences the food I buy, what I care about and study," said Allison Thompson, an alumna of the class of 2018.
Though the world that food made affects every aspect of our lives, Patel is hopeful that individuals, working together, can reshape this world.
"The opposite of hunger is not food," Patel said, "it is power."