Wake Forest Athletics' Commitment to Climate Action
Main Content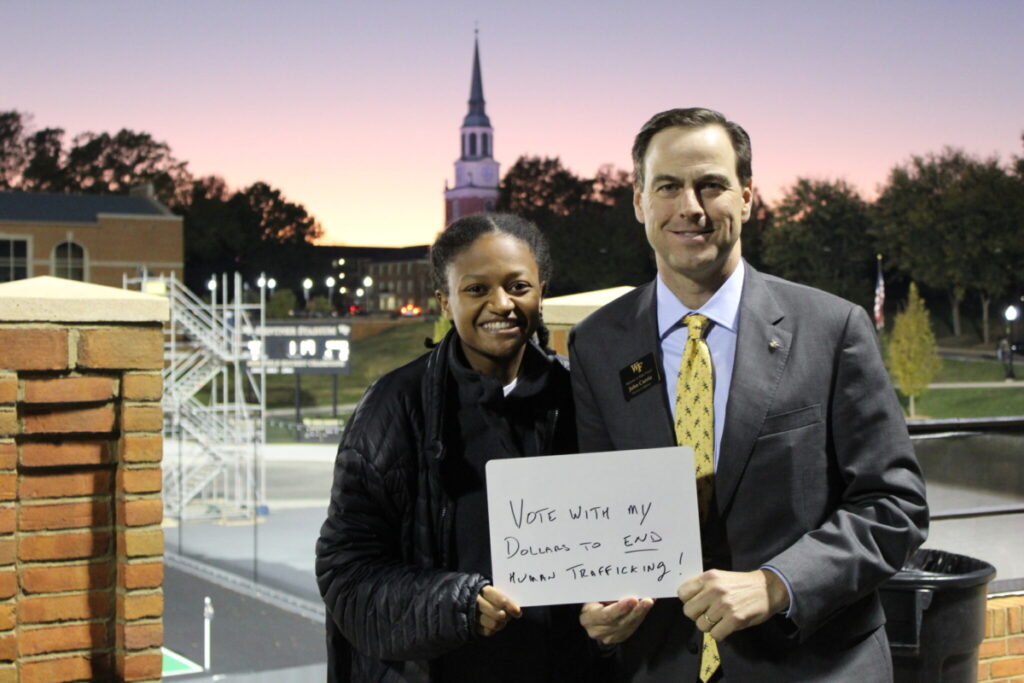 Wake Forest Director of Athletics John Currie is one of four collegiate Athletic Directors from Power Five conferences that will showcase their school's climate action, health and wellness and equity/inclusion practices during an upcoming webinar on August 3, 2020, at 1 p.m.
Currie will be joined by Gene Smith (Ohio State University), Rick George (Colorado University) and Blake James (University of Miami). All of them will present and take questions regarding their approaches to the restoration of college sports amid the ongoing health crisis.
"Wake Forest Athletics works in concert with the University's Office of Sustainability and is proud to partner with Dedee DeLongpré Johnston and her staff on all the initiatives and practices that help our communities grow and improve," Currie said. "This webinar underscores the value of the platform that athletics can provide in elevating awareness and understanding about sustainability and our University's efforts on this front."
Wake Forest, Colorado, Ohio State and Miami were the first four U.S. collegiate athletic programs to commit to the UN Sports for Climate Action Framework. Over 120 sports organizations ranging from the International Olympic Committee to the New York Yankees and the NBA have already signaled their commitment to this global accord.
Each university brings a unique approach to sustainability that results from partnerships between athletics and sustainability leaders. Wake Forest works daily to leverage its sustainability assets to energize fan values, advance the University's sustainability goals, ensure financial success, and generate support from all constituents.
The goal of the webinar is to bring together campus sustainability personnel with their athletics counterparts to better advance campus goals, increase each campus's leadership, respond to student/community preferences for sustainable college sports, and showcase revenue opportunities resulting from these actions.
About AASHE
AASHE empowers higher education administrators, faculty, staff and students to be effective change agents and drivers of sustainability innovation. AASHE enables members to translate information into action by offering essential resources and professional development to a diverse, engaged community of sustainability leaders. We work with and for higher education to ensure that our world's future leaders are motivated and equipped to solve sustainability challenges. For more information, visit www.aashe.org.
About the UN Sports for Climate Action Framework
The U.N. Sports for Climate Action Framework has two overarching objectives: to achieve a clear trajectory for the global sports community to combat climate change and to leverage sports as a unifying tool to drive climate awareness and action among global citizens. Signatories of the framework commit to five core principles: undertaking systematic efforts to promote greater environmental responsibility; reducing overall climate impact; educating for climate action; promoting sustainable and responsible consumption; and advocating for climate action through communication.