Reflecting on an Evening with Joy Harjo: The Arts as a Catalyst for Conversations on Environmental Justice & Sustainability
Main Content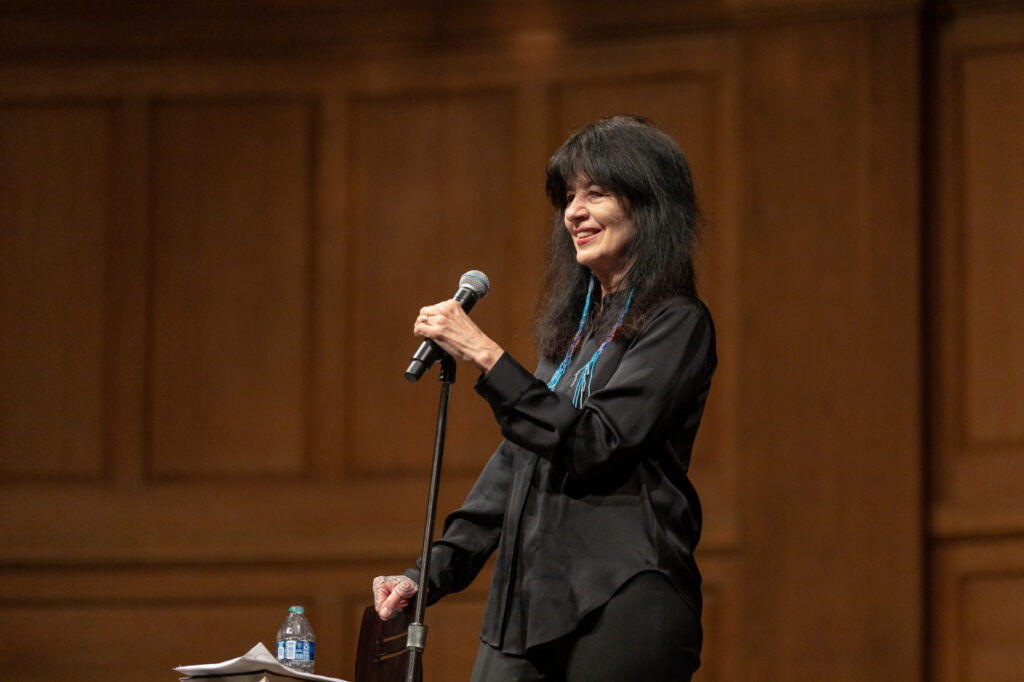 On January 26th, 2022, partners across the Wake Forest University community had the honor of hosting Joy Har­jo, the 23rd Poet Lau­re­ate of the Unit­ed States, for an evening of poetry and reflection. Harjo is a citizen of the Muscogee (Creek) Nation and belongs to Oce Vpofv (Hick­o­ry Ground). She is only the sec­ond poet to be appoint­ed to a third term as U.S. Poet Laureate. She has published nine highly acclaimed books of poetry which explore different dimensions of identity and her experience as a Native American woman. Much of her work is drawn from First Nation history and traditions of storytelling, in addition to social justice and feminist ideas.
Born in 1951 in Oklahoma, Harjo turned to poetry as a creative outlet to cope with an abusive childhood, teenage pregnancy, poverty, and the ongoing erasure of Native American people (Ms. Magazine). Her work sits at the vital intersection of Indigenous rights and history, feminism, identity, environmental justice, and humanity's relationship with the natural world. "What excites me most is this opportunity to open up the American story to include Indigenous people. We are the root cultures of this tree, but we've often been disappeared and disregarded because there's so much complicated and even twisted history around who we are," says Harjo.
The Poetry Foundation describes her work as inhabiting landscapes across the US, from the Southwest and the Southeast, to Alaska and Hawaii, all centered around the need for remembrance and transcendence. These lands hold particular significance for Indigenous communities which have experienced both a historical and ongoing reality of erasure, marginalization, and marginalization. Harjo shares, "I feel strongly that I have a responsibility to all the sources that I am: to all past and future ancestors, to my home country, to all places that I touch down on and that are myself, to all voices, all women, all of my tribe, all people, all earth, and beyond that to all beginnings and endings. In a strange kind of sense [writing] frees me to believe in myself, to be able to speak, to have voice, because I have to; it is my survival."
Harjo often accompanies her poetry readings with musical interludes on her Native flute and sax­o­phone. As part of her reading in Wait Chapel, she opened with a song on the flute.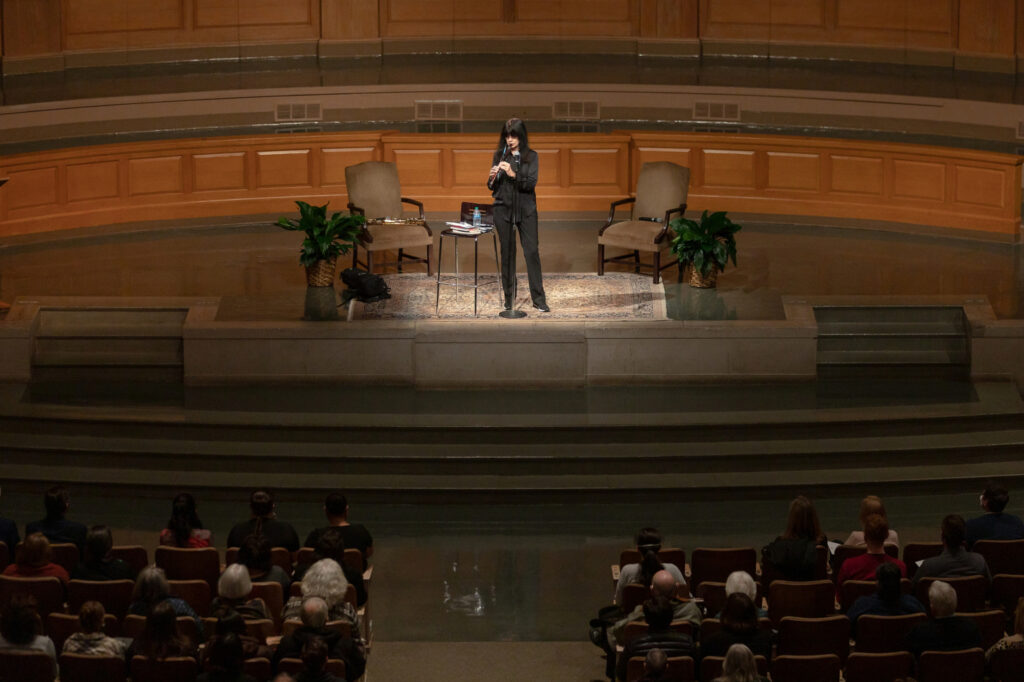 "I always like to play a song in honor of those who keep the land. Some of them are native: the rootkeepers, Indigenous ancestors who still keep the land and the plants here… I like to acknowledge them."
She went on to explain how "We need food for our minds and spirits as much as we need food for our bodies, and that's where poetry and the arts come in."
Poetry and other art forms are becoming increasingly highlighted as tools that bridge the gap between communities, social and environmental justice, sustainability, and other related topics. Harjo shared, "We have to find a way. Poetry has many uses, you know, and it can transform. We're all energy and the words are energy. Words go out and make shapes in the air. You can't always see them. They make patterns and songs and sounds. So is the earth. The earth … has its own voice, and the earth even speaks to us. We may not even know that's what's happening."
The National Endowment for the Arts explains the complex symbiotic relationship that exists between artist and community. Not only does the artist require an audience to interact with their work, but the community directly benefits through an improved environment the art provides, inspiration, and innovation. Some artists, like Harjo, exist beyond this give-and-take model. "They are so immersed in their communities that their work and identity are inextricably bound with a certain place or people" (National Endowment for the Arts). Furthermore, different art forms have different outcomes, modes of delivery, and resonance in terms of audience and community relations. Each can be utilized in fluid and varied ways to bridge meaning and inspire motion across communities.
In the context of climate change communication, "poetry has the power to make abstract or diffuse issues more real to readers…by using things like imagery, metaphor, narrative, and even white space," says Christina Thatcher, a Creative Writing Lecturer for The Conversation. "Poems can also act as visions of the future in order to highlight changes we can make in the present."
Furthermore, the environmental movement is usually "driven by, guided by, kept alive by literature" (Limerick). There are few other examples in history of movements that have been influenced and guided by literary arts and poetry as much as environmentalism. "And yet, as a vehicle for social change, environmentalism has traveled too long with a literature-supported paradigm that pays exclusive attention to the attitudes toward nature held by white Americans" (Limerick). This historical reality elevates the necessity and underscores the importance of voices like Harjo's advocating for a broader, more intersectional understanding of the movement and the role of arts within it.
Joy Harjo's performance at Wake Forest exemplifies the power that the arts and Indigenous leadership can have on social justice movements, especially environmental justice. Emily Kemp, a current junior, shares her reflections from the evening. "It has been an incredible honor for Joy Harjo to work with us and share her writing with us. As an environmental major, it has been especially impactful because of the way she writes about people and our connection to nature and, even more so, our responsibilities to nature. As a Wake Forest student, I think it is really important to have voices like hers come to campus to educate us and open a space where we can have dialogue about these topics," says Kemp.
When art is centric to communities, it has the power to uniquely capture feelings, experiences and stories of the past while inspiring us to look toward a future brimming with hope. By reminding us all that we are creative beings through many outlets and forms, we are reminded of our elevated human connection and greater community which we are all a part of.
"Poetry keeps the door open to awe and ensures that we will find our way through the broken heart field of wars, losses and betrayals to understanding, compassion and gathering together."

― Joy Harjo in Last Word