To Antarctica and Back Again: A Study in Sustainability
Main Content
guest blog written by Libby Mohn ('20)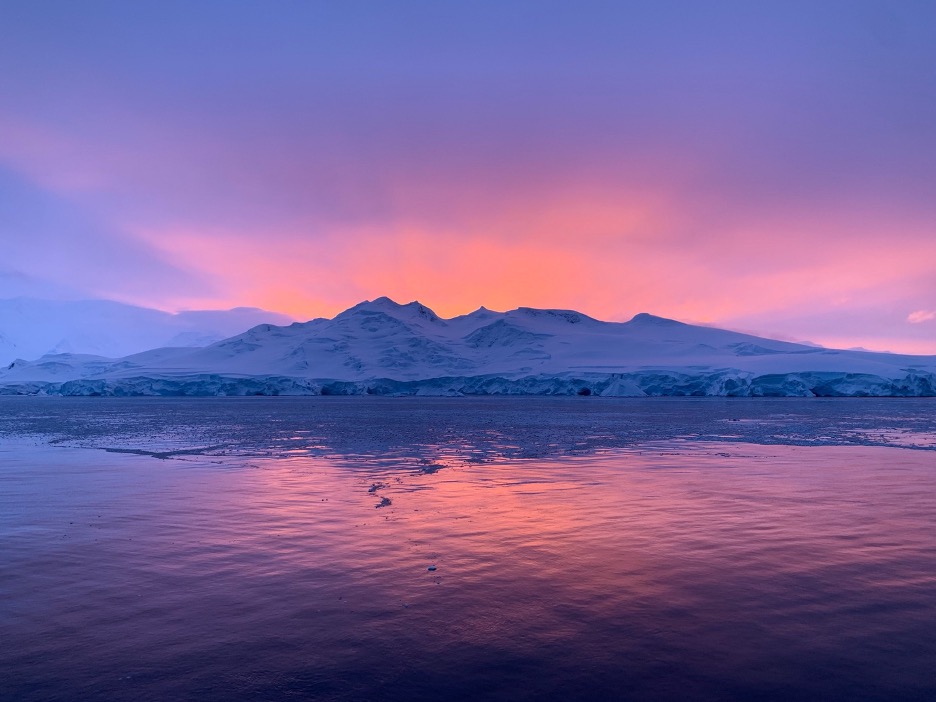 ---
"The greatest threat to our planet is the belief that someone else will save it."

– Robert Swan OBE
In March 2022, I journeyed to Antarctica with ClimateForce 2041 alongside polar explorer Robert Swan OBE, the first man in history to walk to both the South and North Poles. Throughout the course of the expedition, the true meaning of Rob's message unfolded itself to me, laying itself out like a story crying out to be told. Here is a piece of this story, and how it is woven with mine / woven with mine:
Along with 160 other individuals from over 36 countries, I boarded a ship that would take us through the roughest crossing to the largest swath of unowned land on Earth. My journey began one month before the expedition started. I serendipitously rediscovered Rob's Antarctic Expedition through his organization, The 2041 Foundation, and knew I needed to go. In the fall, I would be starting a Masters in International Environmental Policy at the Middlebury Institute of International Studies with the goal of establishing Marine Protected Areas and conserving Antarctic waters. But without experience of the environment, how could I truly understand what I wanted to protect? The 2041 Foundation's mission strives for the same goal I do: to preserve Antarctica as a natural reserve for science and peace. It was February 2nd, 2022, and the Expedition left on March 16th. Many people had been preparing for this trip for years – I had a little over a month. But I was determined. After two rounds of applications, I heard back that I'd been selected to join ClimateForce 2041 as a global Antarctic Ambassador. I was going to Antarctica.
Eighteen days after, I boarded a flight that would take me to "the end of the world": Ushuaia, Argentina. Three flights and 33 hours of travel later, I arrived in the majestic southernmost city of Patagonia. I was swept away by its natural beauty, the ClimateForce 2041 Expedition leaders, and the incredible people I was meeting from all over the world, gathered together to learn and connect over mitigating climate change. We explored the Cerro Alarken National Reserve's peat bogs, essential natural carbon sinks, hiked the Martial Glacier, which is melting at a rapid rate cutting off the only water supply for the towns below, and listened to inspiring stories from our team leaders. Everything I experienced was surreal, like I could wake up at any moment and find myself back in my little San Diego apartment. The last night, we watched as our ship steered into the harbor, and the next morning took our final COVID tests before climbing aboard.
---
---
The trip down south was not for the faint of heart – or stomach. After a nice cruise along the Beagle Channel, watching dolphins and penguins breach out of the water, we hit the Drake's Passage. 30-foot waves greeted us that morning, rocking the hull back-and-forth, back-and-forth with a sickening force. Heavy stumbling, severe drowsiness, and bouts of nausea blurred the time together. We learned the true rite of passage of the Drake: a test of strength, a confusion of the senses before the honor of entering the proverbial land.
48 hours after our departure, we experienced our first sighting of Antarctica. The first glacier materialized out of the mist suddenly, jarring us out of our seasick stupor. The glacier was deceptive in appearance, seemingly comprehensible but in actuality impossible to grasp its enormity. It was a moment of pure wonder and elation – everyone bundled up against the wind and snow sprinkled onto the deck to witness this moment together. Our first excursion took us out onto the Antarctic waters. Stepping from the sturdy ship into little Zodiac boats, we were only inches away from the deep, viscous sea. The enormity hit us then. Pieces of ice nudged and bumped into our boats while whales exhaled plumes of air nearby. The peace of the place is indescribable. The quiet, unfathomable. The awe and inspiration completely underestimated. Our first night greeted us with the most spectacular sunset; the sky erupted in magnificent colors in an all-encompassing moment.
---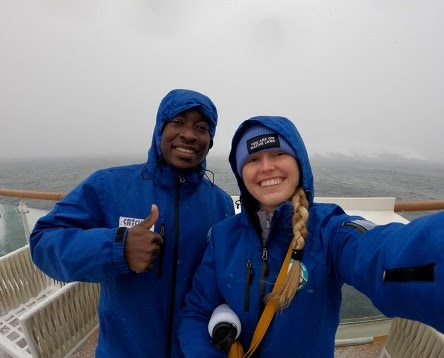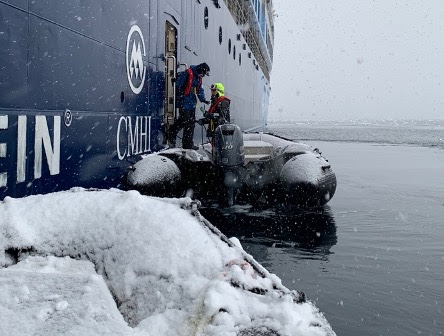 ---
The following days we saw the most incredible combination of animals, weather, and wonders. On the carefully set out routes our guides denoted for us on the continent, we walked amongst gentoo penguins, mindful to stop whenever there was a "penguin crossing" in our path. Crabeater seals lazed on the icebergs, highlighted by the brilliant blue color of the ice shining from below the surface. Blue ice indicates the age of the ice, some even dating back to 1 million years ago. We hiked up snow-covered hills, trudging our galoshes through the powder and radiating heat through our many layers of clothes. Always at the top was the most incredible view, every time unique and breathtaking. Whales surfaced in the glossy, ice-dappled water, breaking the pervading silence with a resounding puff of air – my favorite soundscape. The weather brought us harsh wind, soft snow, blizzarding, overcast moments of stillness, and radiantly crisp and clear blue skies, sometimes all within a matter of hours. The powerful notion of our earth being a living and breathing ecosystem had never come through with such strength as it had in Antarctica.
---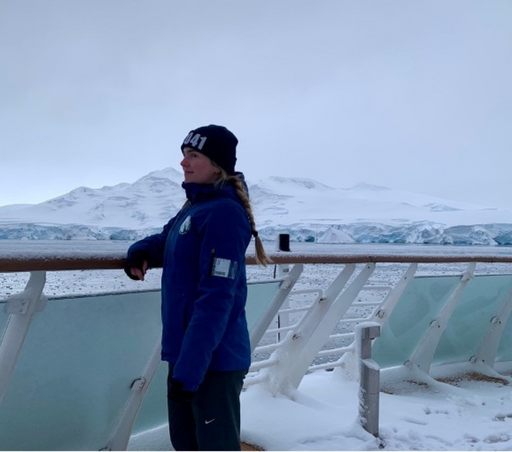 ---
Even immersed in the surreal Antarctic environment of the most untouched, pristine habitat on Earth, it wasn't long until the effects of climate change caught up with us. While we were preparing for our departure from Ushuaia, news had spread about a heatwave on the Antarctic Plateau. The Concordia Research Station in East Antarctica measured a temperature record high of -11.8 degrees Celsius, 40 degrees above the month's average. Scientists reported they had never seen weather behavior like this in the history of Antarctic weather recording. While climate and weather are not the same, the change in our climate can increase the frequency in severe weather events such as this one. On the sixth day aboard our ship, precipitation turned from the typical Antarctic snow to rain. I remember standing out on the deck, feeling the droplets slick and soak into my parka in disbelief. Rob shockingly revealed that in the dozens of times he had traveled to Antarctica, this was the first time he'd ever seen it rain. The Conger ice shelf, a floating ice sheet 460 square miles or the size of Rome, collapsed in East Antarctica around March 15th. While the breaking of ice shelves is a natural process on a smaller scale, the Conger ice shelf did not display the typical signs of gradual calving and melting. It also occurred around the same time as the record high temperatures in East Antarctica. That there is a shift in the climate we live in is undeniable.
---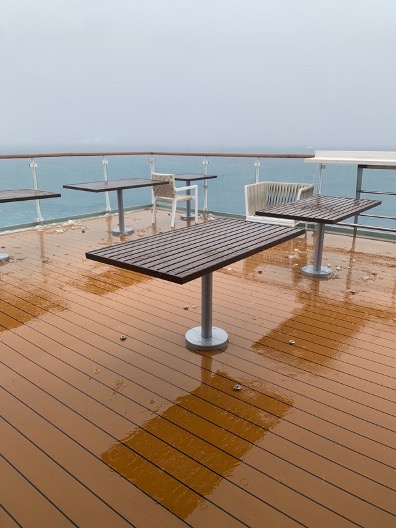 Witnessing climate change firsthand in a place so far away from the human-inhabited world had a massive impact on me. Antarctica made me think about life with a different perspective. It feels like the missing puzzle piece we need to reconnect to the world. To find renewed purpose. To stand together in action. The survival of human beings depends on our actions, on keeping our climate one that we can continue to live in. In the face of these monumental problems, it can feel like nothing you can do will make a difference. But as Rob reminds us, believing we can't make a difference or that someone else will instead is the greatest threat to our planet.
---
So, What Can You Do?
Climate change is such a large issue that it can be difficult to know where to begin and what can make the best impact. And there are other related issues plaguing our environment as well, such as plastic pollution and excess waste. I've found that it's easiest to start wherever you can find the most sense of fulfillment from your impact. Easily implemented but impactful changes help to break the habit-change barrier we so often face. When I returned from Antarctica, I had more motivation than I'd ever had before. I felt where I could make the most immediate impact in my life was to move toward a Zero-Waste lifestyle, which I called a "Less-Waste lifestyle". I visited a local refillery to learn about what I could replace in my daily life with a more sustainable option: bath products in aluminum containers, glass jars to hold cleaning supplies, and reusable "paper towels" are some. Another thing I do now, as a coffeeshop fanatic, is bring my reusable cup or tumbler with me when I grab coffee or tea to-go. Most baristas will happily fill your cup and some even give you a discount! Whenever I order food or drink "for here", I ask if they can serve me with washable dishes rather than plastic ones.
Here are some other simple action steps you can take:
Reduce your use of single-use plastics: swap out plastic bags for reusable ones (and remember to bring them with you), plastic for metal or bamboo straws, buy glass or paper containers instead of plastic ones for home goods and groceries, shop at your local farmer's market
Reduce your Carbon footprint: buy carbon credits to offset flights, carpool, ride a bike, etc.
Join community environmental events, such as local clean-ups, local climate action campaigns, campus gardens events, etc.
Invest your money responsibly around ESG
Make your voice heard by those in power
One of the most important things you can do is talk to others about climate change in your community. Have conversations about what you've noticed about the climate, share sustainable news and practices that interest you, and discuss what are the best ways for you personally to contribute to climate mitigation. This can be the most powerful step of all. Conversation is a necessity in creating change in this world. You could talk with your professor and peers about how sustainability plays a role in your area of study. The most valuable contribution we can give comes from collaboration: the exchange of ideas big and small, working and creating, together. United, we can make all the difference in the world, for the world.
---
About the Author
Libby Mohn is a Wake Forest '20 alum currently studying at the Middlebury Institute of International Studies in Monterey, CA. There she is completing her Masters program in International Environmental Policy with a specialization in Ocean & Coastal Resource Management. In the past two years, Libby was a Fulbright Scholar teaching English in Taiwan, received her 200-hour yoga teacher training certification, and joined the ClimateForce 2041 Expedition to Antarctica. She hopes to combine her curiosity about history and cultures with her passion for ocean conservation to spearhead intercultural conservation initiatives. In her free time, Libby likes to explore the natural sites in California, hop around coffee shops, and spend time with her lovable yellow lab, Lupa.