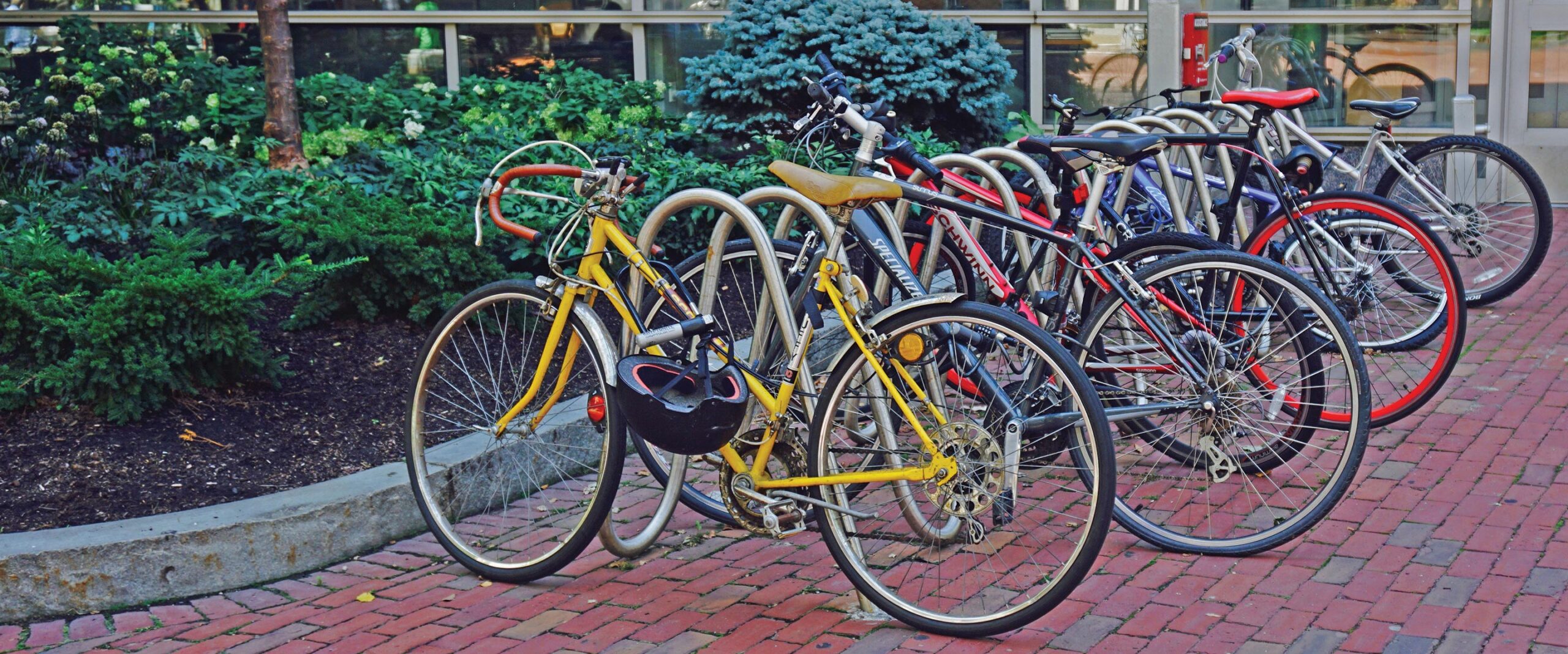 Getting Around Wake Forest & Winston-Salem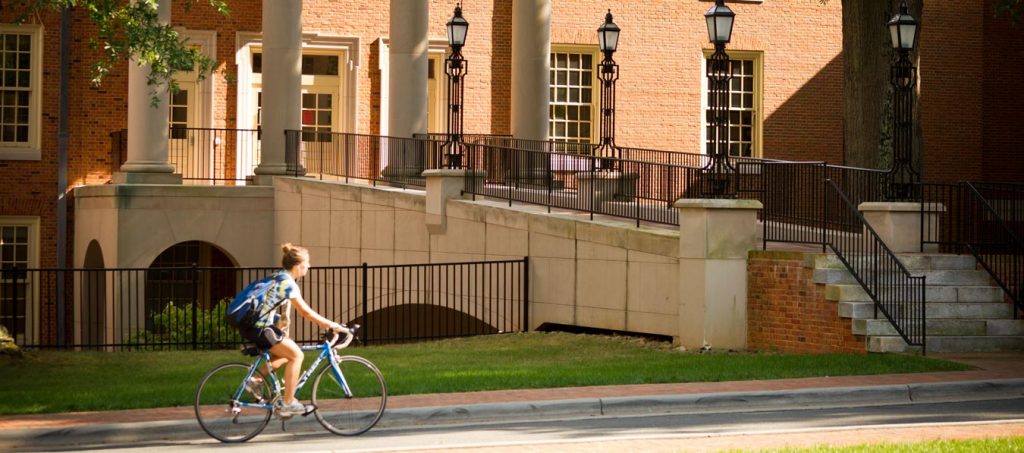 Biking and Walking
As a compact campus, Wake Forest is the perfect place for walking and biking. The WFU Reynolda Campus connects to a number of restaurants, museums, and facilities in Reynolda Village that are accessible by foot. Similarly, the Wake Downtown campus is in the heart of the Innovation Quarter, mere steps away from downtown shops, restaurants, and the 1.6-mile Long Branch Trail.

The popular ReCycle Bike Share program was started in 2016 by an Office of Sustainability intern who recognized an unmet need at Wake Forest. Since 2019, Outdoor Pursuits has operated this campus-wide bike share program that provides students, faculty, and staff the chance to rent a bike for an academic year or semester at a time. Bike stations located around campus provide cyclists with the opportunity to perform minor repairs and keep their tires inflated.
Biking Links
---
WFU Shuttles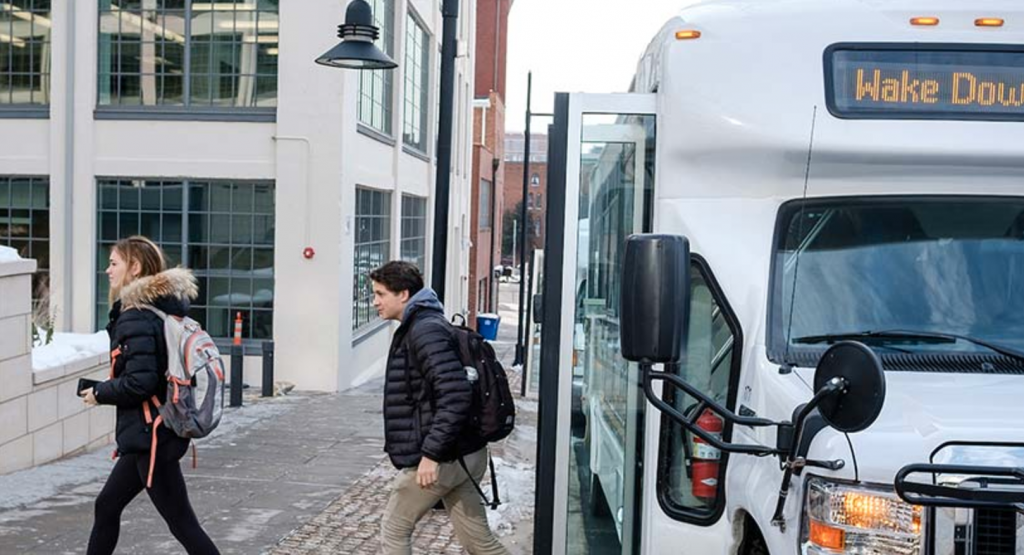 WFU Shuttle Links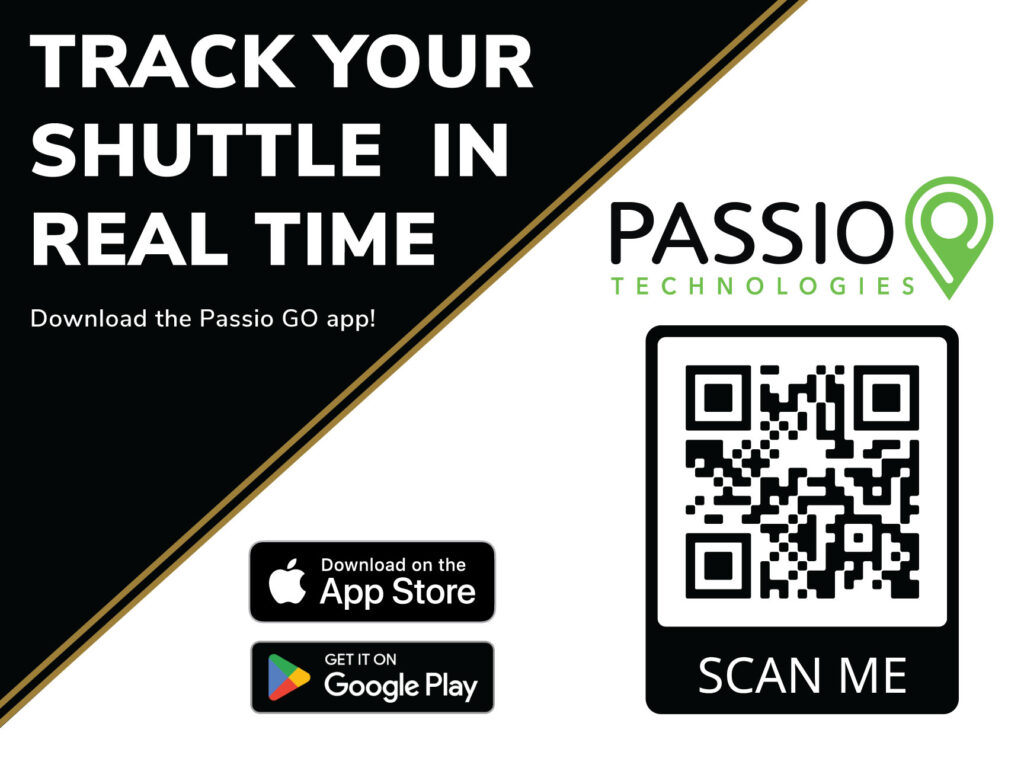 Ride the Wake Line
WFU Transportation provides a network of shuttles throughout the year for students, faculty & staff. Whether you are commuting to work, getting around campus between classes, doing research at the medical center, or exploring downtown Winston Salem the Wake Line makes it easy. Keep up to date with schedules, request a ride or even track your bus live while you wait.
The Wake Line shuttle system is the easiest way to get from Wake Forest to popular areas in Winston-Salem. Wake Forest's shuttle hub is centrally located in the heart of campus, making it easy to get to Wake Downtown, shopping centers, and more.
Airport shuttles are also available during seasonal breaks, making it easy for students to travel to and from campus without a car. Service is provided to and from Greensboro's Piedmont Triad International Airport (GSO-PTI) and Charlotte Douglas International Airport (CLT).
In the 2022 – 2023 school year, the Wake Line transported 130,000 riders. The Gold and Black shuttle lines serve the commuting needs of the approximately 400 undergraduate and graduate students who live in apartment complexes within two miles of campus. Two off-campus apartment loops are completed at regularly-scheduled intervals throughout the academic day. Printable schedules and route maps are available on the Ride the Wake page. The Gray Line shuttle serves faculty and staff working in the Deacon Blvd area and all members of the campus community who travel between Student Drive, the campus core, and the Deacon Blvd area.
---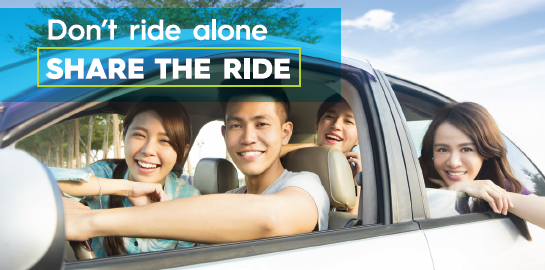 Ride Share and Carpool Services
SharetheRideNC
ShareTheRideNC is a statewide ride-matching service sponsored by the North Carolina Department of Transportation (NCDOT) and the Piedmont Authority for Regional Transportation (PART). To continue your commitment to ride-sharing at Wake Forest, register with ShareTheRideNC and select Wake Forest University as your primary affiliation. Remember, registering does not obligate you to carpool, but we do hope it motivates you. This quick walk-through video explains how to register and start finding matches on STRNC.org.
Carpool
Carpooling saves money, gas, and time looking for a parking space. Faculty and staff members can register for a carpool pass and receive a free, reserved space by filling out the carpool application. Complete the application and return it to Transportation and Parking Services via email (parking@wfu.edu), fax (ext. 6150), or campus mail. Be sure to review the carpool program procedures and policy. If you're worried about needing to run an errand off campus, Zipcars are available by the hour. Not sure how to find a carpool partner? Read our guide How to Find and Register a Carpool, which includes a number of frequently asked questions about carpooling.
---
Join. Drive. Return.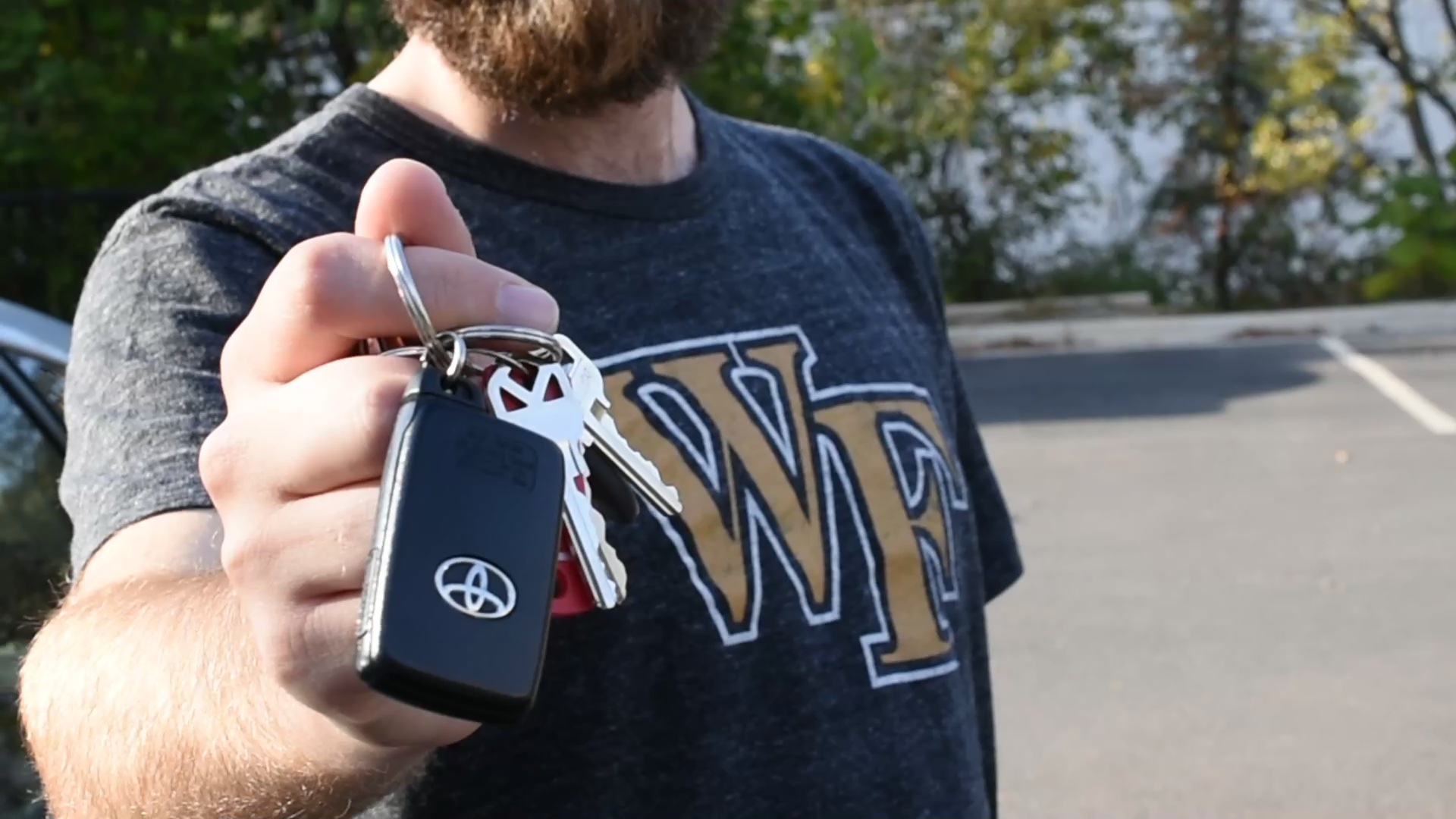 Zipcar
Wake Forest offers a car-sharing program as an alternative to bringing your own car to campus. Zipcars are an affordable option that is available by the hour or by the day. Cars are parked on campus near the first-year residence halls, on Gulley Drive. Zipcars are available 24 hours a day; rates include gas and insurance.
---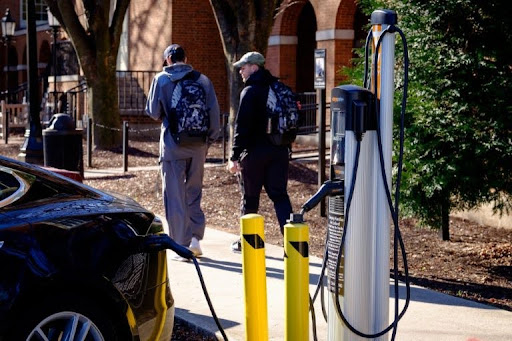 Electric Vehicle Charging Stations
Electric Vehicle (EV) Charging Stations
EV charging stations are available in locations across campus. All charging stations can accommodate the charging of two vehicles at a time and are level 2 chargers. Charging a vehicle is free with a three-hour limit per 24 hours. We encourage all users to charge their vehicles whenever needed but ask that everyone relocate their vehicle when charging is complete so that others can use the limited stations available.
8 Charging Station Locations on Campus
Parking Lot U2
Parking Lot W1
Gully Drive
University Corporate Center (UCC)
Parking Lot Q
Parking A
Parking Z5 (First-year student parking lot)
Deacon Place
How to Activate a Charging Station
Charging stations are locked, but can be activated in various ways:
Call 888-758-4389 (24/7 ChargePoint Driver Support).
Download and use the ChargePoint mobile app.
Contact the Transportation and Parking Office to obtain a ChargePoint activation card on weekdays between 8 a.m. and 4:30 p.m. Call 336-758-PARK (4255).
Call Transportation and Parking during business hours.
After business hours on weekdays and weekends, contact 336-758-4255 (Leave a brief message for an immediate return call).
---
Transportation Studies
WFU is frequently assessing infrastructure to increase connectivity both on campus and with the surrounding Winston-Salem community. Implementation of sustainable transportation initiatives is overseen by the Sustainability in Transportation Working Group, which consists of a diverse group of campus stakeholders.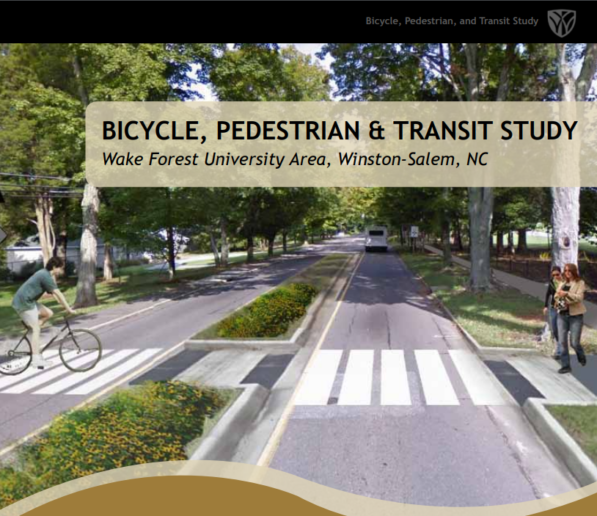 Bicycle, Pedestrian & Transit Study (2014)
The Winston-Salem Department of Transportation (WSDOT) and the City-County Planning Board (CCPB) of Forsyth County and Winston-Salem, in cooperation with Wake Forest University (WFU), conducted a Bicycle, Pedestrian, and Transit Study for the Wake Forest University area in Winston-Salem. This project aims to improve active transportation and transit choices between the WFU campus and surrounding neighborhoods through infrastructure and policy changes.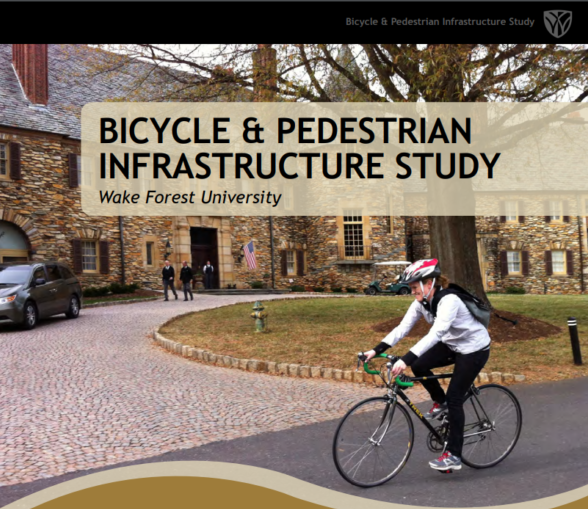 Bicycle & Pedestrian Infrastructure Study (2015)
The Bicycle and Pedestrian Infrastructure Study identifies opportunities and constraints for walking and bicycling on the Reynolda Campus, and provides a prioritized set of recommendations for improvement. This project differs from the WFU area Bicycle, Pedestrian & Transit Study, which focused on connections between the campus and the surrounding areas. Instead, this study is focused on campus itself, and aims to improve conditions for walking and bicycling campus-wide.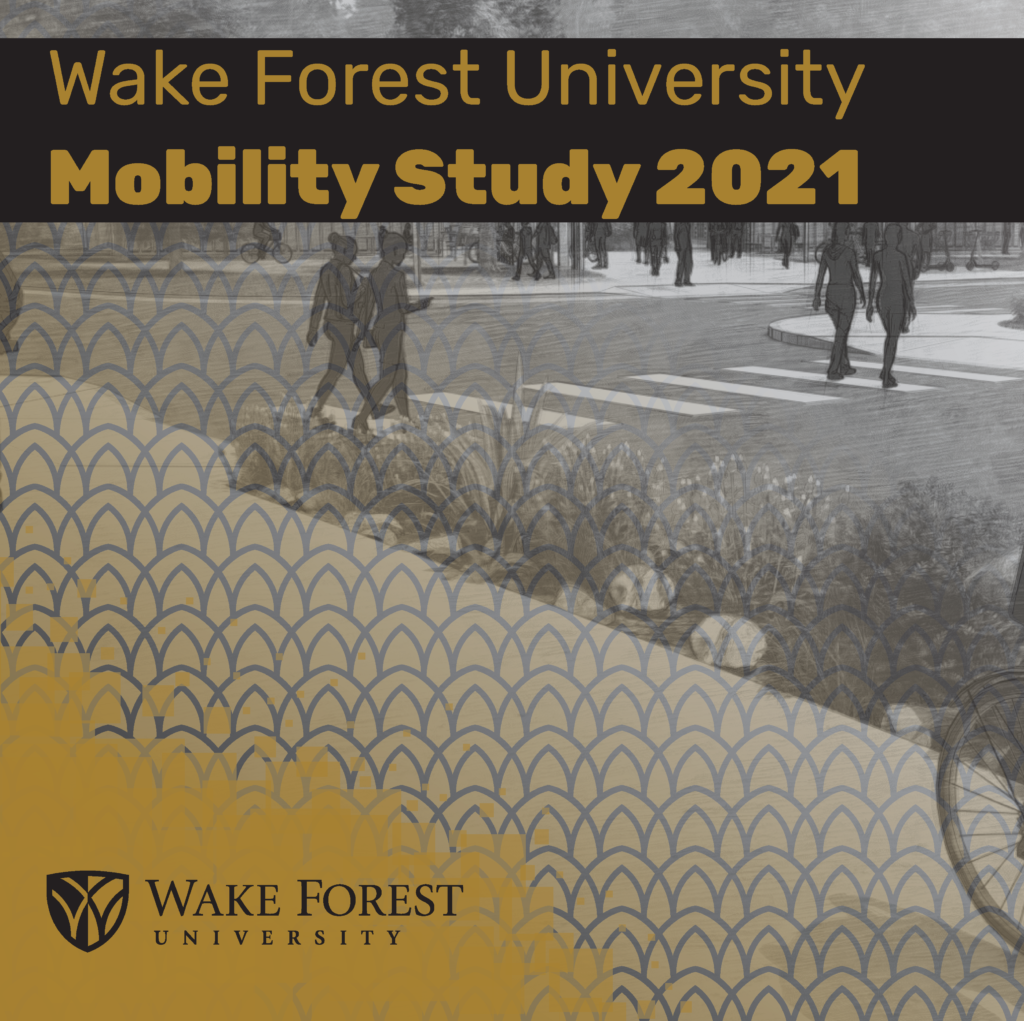 Wake Forest University Mobility Study (2021)
The WFU Mobility Study provides a holistic view of campus mobility. Building on the 2015 Bicycle & Pedestrian Infrastructure study, it includes a closer examination of transit connectivity, walking, bicycling, and shared use path circulation. This study provided the recommendation for converting parking lot N into a centralized shuttle hub, and includes further recommendations for micromobility, pedestrian routes, and an extension of the Reynolda Greenway through campus.
---