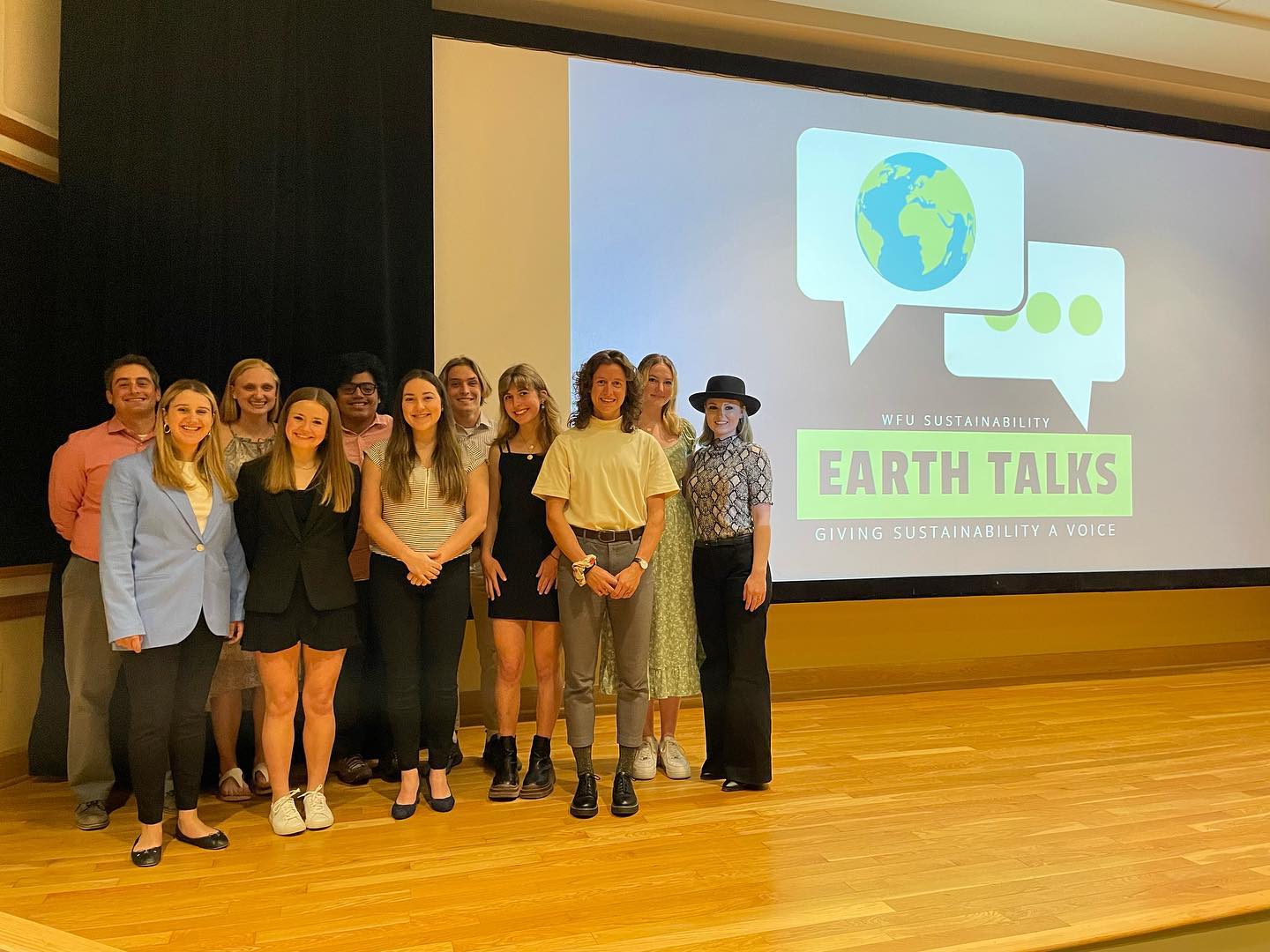 ---
2023 Earth Talks Program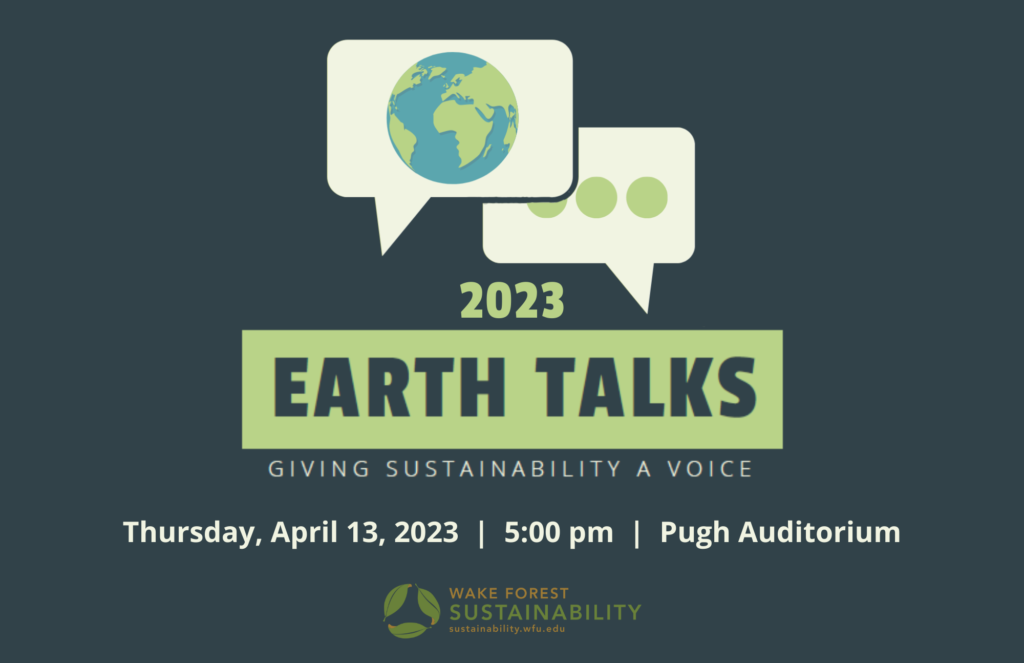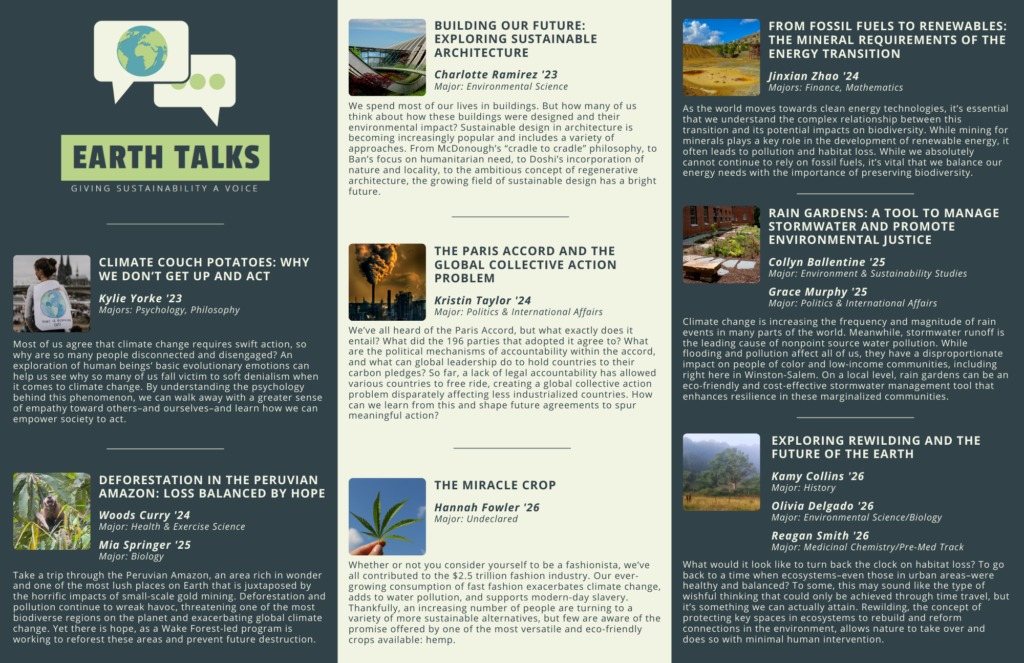 ---
Earth Talks is an annual series of short, student-led presentations that are focused on sustainability topics. Each talk is led by a Wake Forest student or group of students who are eager to share their knowledge, passions, opinions, and/or research with others in the WFU community. Most importantly, you don't need to be an expert to present; everyone is welcome to be part of this sharing community!
Earth Talks 2023 will take place on Thursday, April 13 in Pugh Auditorium from 5 – 6:30 PM.
Please click below to register to attend. A livestream option is available for those not in Winston-Salem.
---
FAQs:
Q: Do I need to be an expert to be a presenter?
A: Absolutely not! Earth Talks is similar to TED or TEDx in terms of its format, but it's designed to be accessible for everyone to present. You do not need to have any expertise to deliver a successful presentation. In the application form, you'll be able to choose the level of your talk (introductory, intermediate, or advanced). The goal is to have a variety of levels of expertise represented.
---
Q: What topics can I present on?
A: Any and all topics related to sustainability are welcome. This includes climate change, environmental justice, biodiversity, energy, fast fashion, community issues, food, waste, leadership and behavior change, ocean conservation, and more. This event is designed to attract students from all disciplines. If you'd like to talk about a potential idea, email Brian (cohenbj@wfu.edu).
---
Q: What format should my presentation be in?
A: Whatever format you want! Some students are using slides, while others are just talking without any visuals. You're welcome to include video clips, make your session interactive with a game, incorporate audience participation, and more. Let your creativity run wild!
---
Q: How long will my session be?
A: Earth Talks are designed to be short and energetic to keep the audience engaged. All talks are slated for 10 minutes, which includes a few minutes for Q&A. Exceptions will only be made for very compelling reasons!
---
Q: Can I present with a group?
A: Absolutely! You're welcome to present individually or with as many others as you'd like. You can even include faculty, staff, alumni, or community members on your team if you so choose.