Drawdown Series Part 2 of 3: Leading the Way Toward Carbon Reduction through Campus-Wide Initiatives
Main Content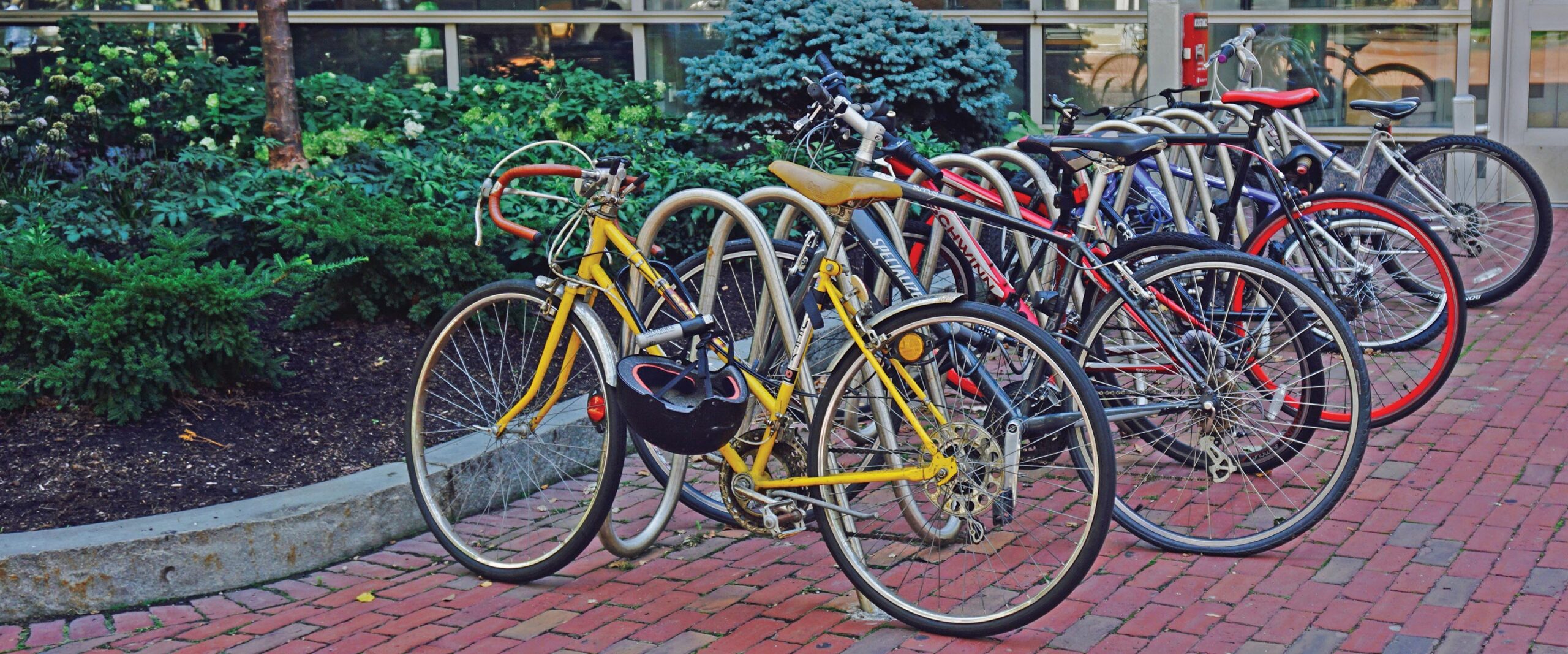 by Office of Sustainability Staff Writer Suzy Mullins ('18)
Over the past few weeks, we have examined how Wake Forest is working to adopt, demonstrate, or research 25 of the 80 solutions from Drawdown, "the most comprehensive plan ever proposed to reduce global warming." If you missed our introduction piece or our look into the Drawdown solutions that are being researched at Wake Forest, be sure to give them a read.
In this second piece, we examine nine Drawdown solutions that students, faculty, and staff engage in at Wake Forest. These solutions, and their corresponding ranks, include:
Reduced food waste (3)
Plant-rich diet (4)
Regenerative agriculture (11)
Electric vehicles (26)
Mass transit (37)
Household recycling (55)
Bike infrastructure (59)
Composting (60)
Ride sharing (75)
FOOD
Do you know the environmental impact of the food you eat? You may be surprised to see that the adoption of a plant-rich diet is solution number four, but it's true– overconsumption of animal protein not only comes at a high cost to human health, but it is also detrimental to our global climate. Even the most conservative estimates blame animal husbandry for nearly 15 percent of greenhouse gases (GHGs) emitted each year. Food waste is an even bigger problem. Did you know that a third of the food raised or prepared each year does not even make it to your plate? If more people adopted plant-rich diets, composted organic matter, and reduced food waste by 50 percent, we could draw carbon emissions down by 70.53 gigatons by the year 2050.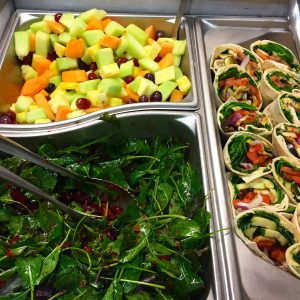 Wake Forest Dining is making strides to support diets that are high in fruits, vegetables, and plant-based proteins. According to Wake Forest's registered dietician/nutritionist, Brooke Orr, "Deacon Dining aims to educate students and provide a variety of plant-based diet options across campus." Current options include: vegetarian/vegan options at catered events, the vegan station at the Fresh Food Company, the Performance Dining Station at the Fresh Food Company—which offers a variety of vegetables and plant based protein options daily, and the Performance Dining education program—which encourages students to make half of their plate vegetables and half of their protein choices a plant protein.
Campus Kitchen at Wake Forest has been working to reduce food waste for many years. This student-led initiative repurposes food that is prepared, but not served, into meals that are distributed through community partner agencies in Winston-Salem. The group also gleans food from high-end grocers in town. More than 500 pounds of high quality food, which no longer meets the store managers' standards, is redirected daily to individuals and families suffering from food insecurity.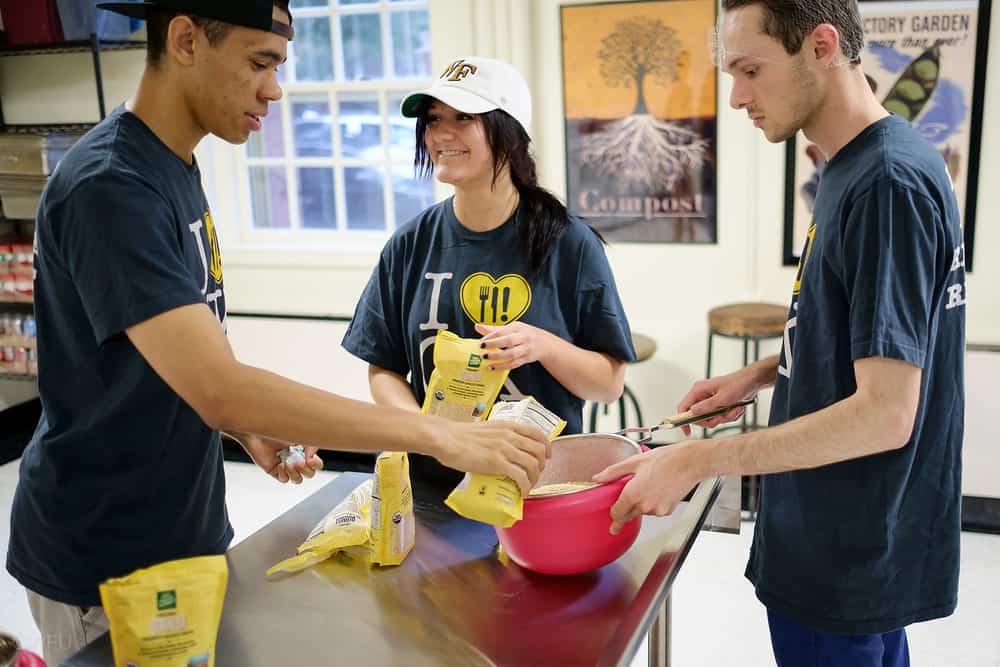 According to John Wise, the Associate Vice President of WFU Hospitality & Auxiliary Services, our campus has also taken substantial steps to divert food waste from the landfill. The North Dining Hall was specifically designed to minimize waste. Both pre-and post-consumer food waste are sent to Gallins Family Farm to be converted into nutrient-rich compost. In the Pit, all pre-consumer waste from food prep is sent to Gallins Family Farm to be composted. Additionally, all coffee grounds from the national brand outlet and student-run enterprise on campus are diverted and composted.
Wake Forest is also working to demonstrate regenerative agriculture in the Campus Garden. Regenerative agriculture restores degraded land through no-tillage practices, diverse cover-cropping, in-farm fertility (no requirement of external nutrients), no pesticides/synthetic fertilizers, and multiple crop rotations between plots. The purpose of these methods is to help restore soil health by improving its carbon content. If regenerative agriculture acres increase from 108 million to 1 billion by 2050, carbon emissions could be reduced by nearly 23.2 gigatons.
MATERIALS
In addition to reducing the impacts of agricultural practices, Wake Forest promotes solid waste reduction and recycling. On average, 50 percent of recycled materials globally come from households, while the other 50 percent come from industrial and commercial sectors. The university is working to educate students, faculty, and staff about the economics behind consumer recycling while focusing on diverting major material streams like furniture, yard waste, and construction and demolition waste.
TRANSPORT
Another key set of initiatives on campus center on transportation. The implementation of bicycle and pedestrian infrastructure is a great pathway for reducing carbon emissions; easy access to bicycles, as well as the placement of a safe and effective riding environment, could work to increase global bike trips from 5.5 to 7.5 percent, and avoid 2.3 gigatons of CO2 emissions. Check out Re-Cycle, our bike sharing program, which allows students, faculty, and staff to borrow bikes for up to an entire semester. Additionally, Wake Forest administrators are in collaboration with City of Winston-Salem staff to implement recommendations for improving infrastructure to and from campus.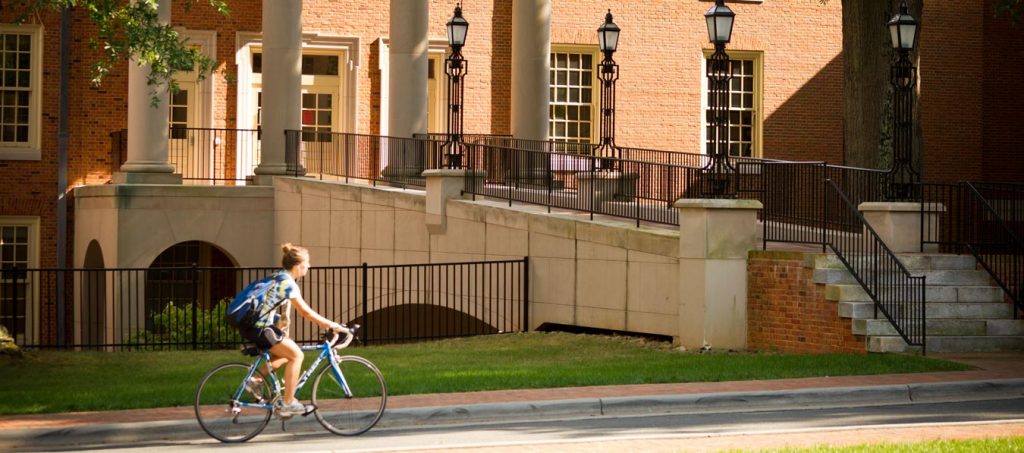 If biking isn't your thing, there are other sustainable transportation options. Mass transit currently makes up 37 percent of urban travel. If usage grows to 40 percent by 2050, we could save nearly 6.6 gigatons of emissions from individual cars. Similarly, ride sharing is free to implement and can also result in a significant reduction of GHGs.
In the realm of transit, Wake Forest's transportation manager, Arian Bryant, supports "a fleet of 11 shuttles, which regularly run from the main campus to WFU satellite locations, as well as to a number of hotspots in the Winston-Salem community. We have recently redesigned our routes to make them more efficient and user friendly, and are now utilizing TransLoc, a GPS tracking service which shows the user bus routes and schedules." If you need to travel somewhere beyond the shuttle routes, there are five Zipcars on the Reynolda campus and one at Wake Downtown. Additionally, Wake Forest partners with ShareTheRideNC, a ride-matching and ride-sharing service sponsored by the North Carolina Department of Transportation (NCDOT) and the Piedmont Authority for Regional Transportation (PART). This service allows WFU students, faculty, and staff to share a ride with anyone across ShareTheRide's network of 30+ companies and universities.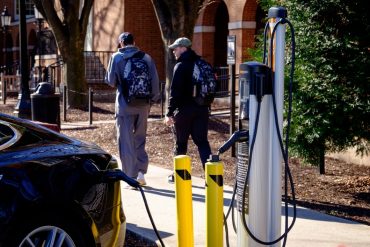 Bryant also highlighted Wake Forest's use of electric vehicles (EVs); many of the vehicles in the fleets used by campus maintenance personnel are EVs. Additionally, WFU's Transportation and Parking Services is in the process of upgrading all parking enforcement vehicles to EVs. The campus also has a number of charging stations which are free for use by students, faculty, staff, and campus visitors. But what is the environmental benefit of transitioning away from internal combustion engines? If ownership and use of EVs rises to 16 percent of passenger miles driven by 2050, 10.8 gigatons of carbon dioxide emissions could be avoided. With innovation on the rise, it seems that EVs will be among the cars of the future.
Want to learn more about how you can play a part in Project Drawdown and campus initiatives to reduce GHG emissions? Join us for a public lecture by Dr. Katharine Wilkinson, the senior writer of Drawdown, on October 5 in the Byrum Welcome Center starting at 6:00 pm. RSVP here.