---
When it comes to waste reduction and diversion, our philosophy is to start at the source. This means reducing our waste output first and foremost, so that there is less to divert. When waste has been generated, it is important to recycle and compost materials appropriately before resorting to the landfill.
Food Waste Reduction
Reduced food waste is the number one solution to addressing global climate change, so this strategy is a large part of our initiatives, partnerships, and outreach on campus.
Resources like our zero-landfill event planning guide, office resource checklist, and sustainable swag purchasing guide are distributed regularly to faculty and staff through our robust network of Green Team captains, who represent 93% of academic departments and a total of 71 campus offices and departments.
We also partner with the Campus Kitchen at Wake Forest University, a student-run service organization that works to distribute extra prepared meals donated by the dining hall and other partner organizations to food insecure populations in Winston-Salem. Any excess food that cannot be salvaged for meals is brought to the Campus Garden to be turned into rich compost for our garden beds. In return, a portion of the produce grown at the Campus Garden is distributed to families in need in the community through Campus Kitchen to help combat food insecurity in Winston-Salem and Forsyth County.
How to Reduce Waste at Wake Forest
Download any of our waste reduction guides below.
---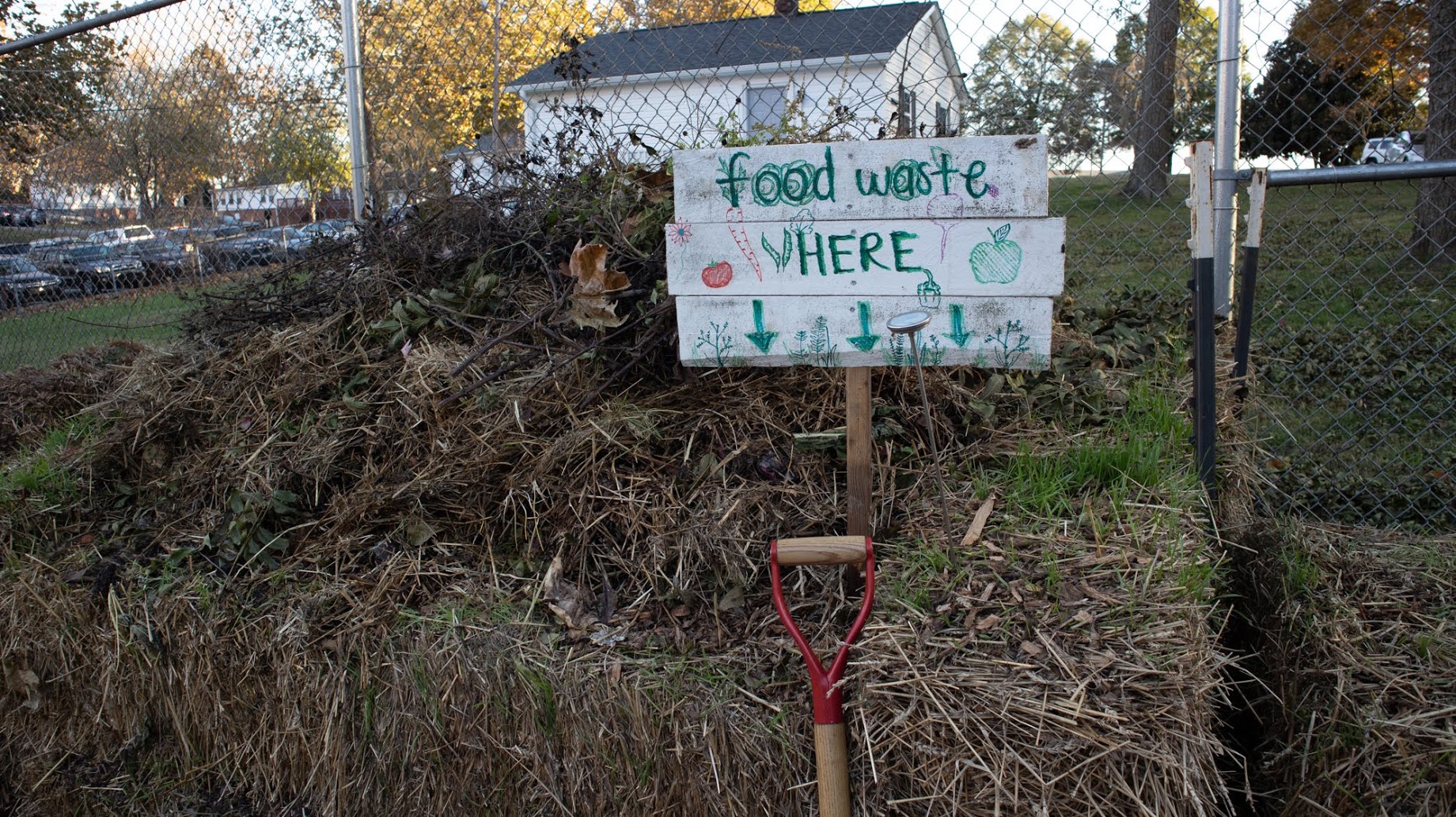 Organics Collection & Composting
Composting is the biological decomposition of organic waste (e.g. food or plant matter) by bacteria, fungi, worms, and other organisms under controlled conditions. This decomposition produces compost, a nutrient-rich substance that can be added to soil to aid in plant growth. You can find numerous resources for composting at home online, including on the EPA's website.
On campus, organic material is collected for composting in several locations. Pre-consumer food waste is collected at the Fresh Food Company (the Pit), North Dining, the ZSR Starbucks, and Zick's. Pre and post-consumer food waste is collected at North Dining. Collecting organics can be difficult in public spaces, as it's important to keep the bin free of contaminants.
While most organic material from campus is sent to local composting facility Gallins Family Farm for processing, composting can be seen in action at the WFU Campus Garden. The organic waste composted in the Garden is used to replenish the soil.
Office Organics Collection
The office organics collection program began in 2018 to empower faculty and staff to divert organic waste from the landfill. To date, there are 55 organics collection bins in offices and departments across the Reynolda campus.

Are you a faculty or staff member interested in helping your department or office divert waste? It's simple — we will provide the compost bin and compostable bags and stop by your office to pick up your organics regularly. Contact sustainability@wfu.edu for more information and help your office get started with composting.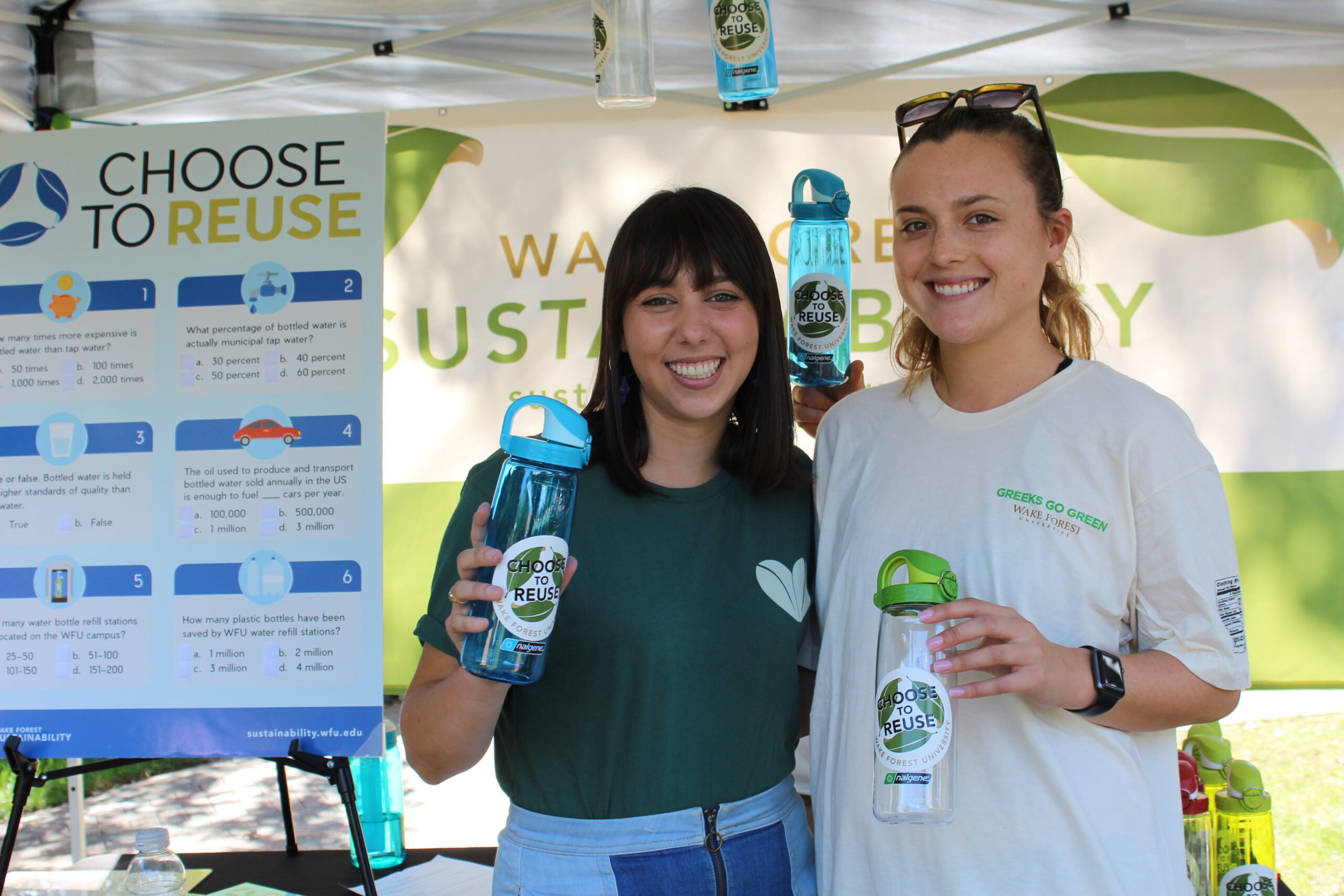 Choose to Reuse
We aim to make using reusable water bottles a convenient choice for all Wake Forest students, staff, and faculty. When surveyed in the 2010-2011 academic year, campus users indicated that they wanted a convenient way to obtain chilled, filtered water on campus. Over a decade later, there are now 200+ water refill stations conveniently located in high traffic areas around campus that fulfill this need and keep a running count of how many disposable bottles are eliminated through their use. In addition, we provide free, reusable bottles during many of our outreach activities that encourage our campus community to #ChoosetoReuse.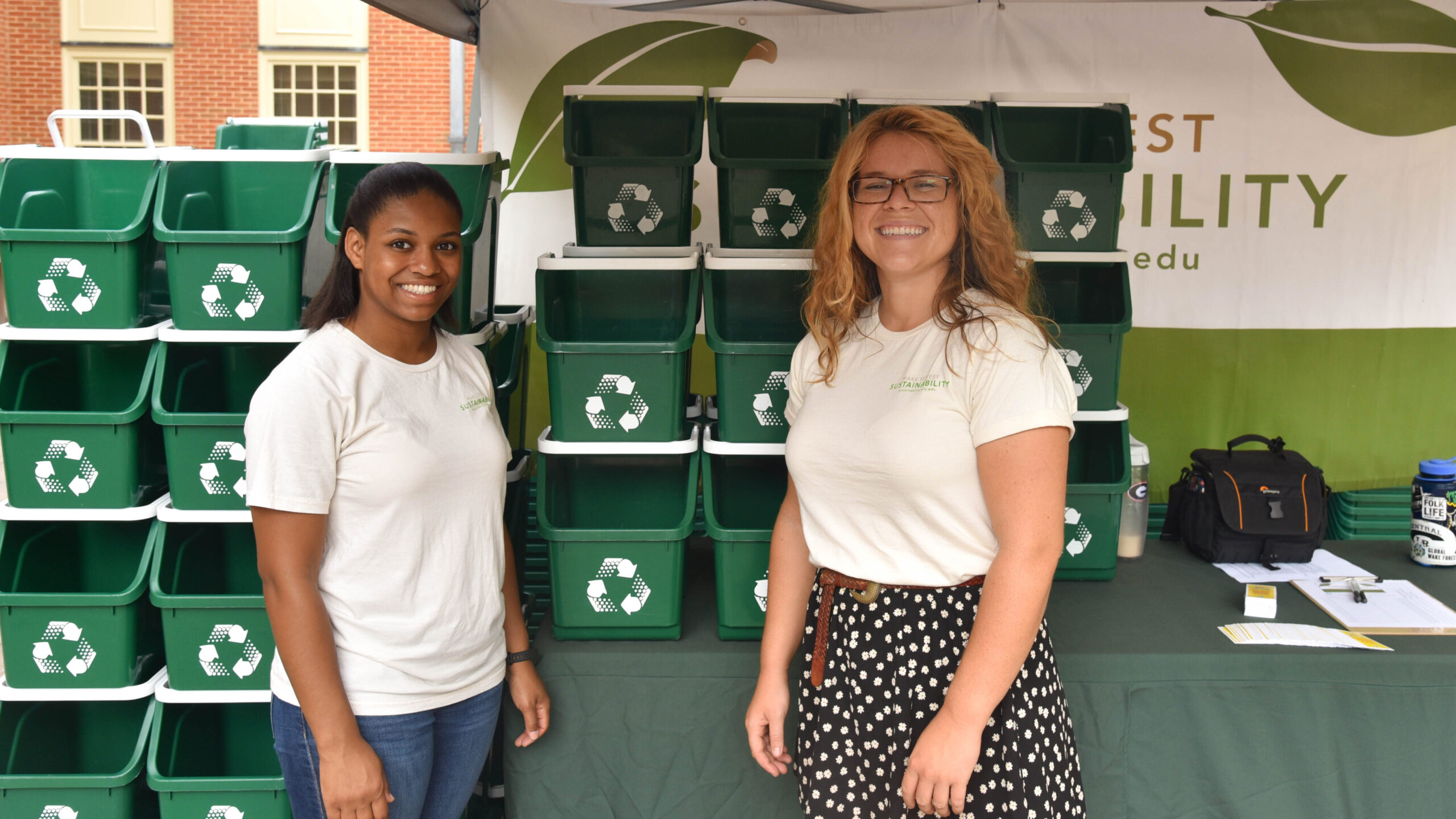 Recycling at Wake Forest
Who manages recycling on campus?
The Office of Waste Reduction and Recycling, located in Facilities and Campus Services, is responsible for coordinating waste pickups throughout campus. In addition, the Surplus Property Program re-purposes items on campus and facilitates the recycling of Wake Forest's e-waste.
What is the recycling collection process on campus?
Plastic bags that line trash bins are opaque black, and bags that line recycling bins are clear. Custodial staff members remove all bags from waste stations separately, tie each one off, and place them all together in a cart. A member of facilities picks up the bags from the custodial staff's cart outside the building, and places the bags in a truck. From there, the facilities staff member transports the bags to the facilities yard, separates out the bags by color (opaque black and clear) and places them into recycling or trash dumpsters respectively.
Put Waste in its Place at Wake Forest
Download our helpful waste diversion and recycling guide to keep items out of the landfill.
---